Wish Her Safe at Home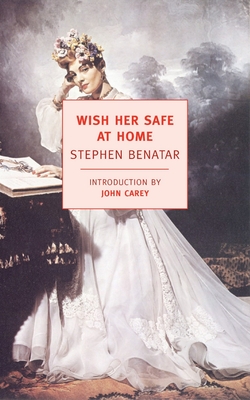 Wish Her Safe at Home
New York Review of Books, Paperback, 9781590173350, 263pp.
Publication Date: January 19, 2010
* Individual store prices may vary.
Buy at Local Store
Enter your zip code below to purchase from an indie close to you.
or
Buy Here
Description
Rachel Waring is deliriously happy. Out of nowhere, a great-aunt leaves her a Georgian mansion in another city and she sheds her old life without delay. Gone is her dull administrative job, her mousy wardrobe, her downer of a roommate. She will live as a woman of leisure, devoted to beauty, creativity, expression, and love. Once installed in her new quarters, Rachel plants a garden, takes up writing, and impresses everyone she meets with her extraordinary optimism. But as Rachel sings and jokes the days away, her new neighbors begin to wonder if she might be taking her transformation just a bit too far.
In "Wish Her Safe at Home," Stephen Benatar finds humor and horror in the shifting region between elation and mania. His heroine could be the next-door neighbor of the Beales of Grey Gardens or a sister to Jane Gardam's oddball protagonists, but she has an ebullient charm all her own.
Praise For Wish Her Safe at Home…
"The inheritance of a mansion in Bristol sparks Stephen Benatar's rediscovered classic Wish Her Safe at Home, in which a cheerfully unbalanced young striver finds her energetic efforts to embrace the finer things in life (and seduce the vicar) thwarted." --Vogue

"This is a most original and surprising novel, and one difficult to forget: it stays in the mind." –Dorris Lessing

"I truly loved this book…such a marvelous work…" –Emma Thompson

"A masterpiece…matchlessly clever…wholly original." --John Carey

"The story is simple, the implications are complex. Rachel is one of the great English female characters. . . . She is Scarlett O'Hara, Blanche DuBois, Snow White and Miss Havisham all rolled into one." —S.J. Newman, The Times Literary Supplement

"A truly remarkable novel, unique and of a world all its own, the best work I've read for a long time. . . . I took it slowly, so many pages a day. I'm never one to spoil enjoyment when into something so extraordinary." —Alan Sillitoe

"Benatar brilliantly imagines himself into a tragically compassionate mind for which wild fancy is the only, and proper, antidote to despair." —The Guardian

"A neglected masterpiece…Brilliant…" –Joan Bakewell, The Times (London)

"This horrifying exploration of madness at least deserves to be called a cult classic." –The Independent

"A remarkably odd and chilling story." –The Observer (London)

"There is something about Rachel Waring—something which is instantly apparent when you read the book—that makes the reader care deeply for her…Wish her Safe at Home is spooky, odd and brilliant." –Camden New Journal

"The atmosphere of encroaching cobwebs, decreasing funds and withering reality is well done…a nice grey sense of eccentricity shading into madness." –The Guardian (London)

"Rachel's impact on the world is only glimpsed in snatches, but they're enough to suggest that her self-view is woefully at odds with society at large. It's a brilliantly clever technique, with an impact particularly unsettling for those who choose to live alone." –The Observer (London)

"This is one of those satisfying stories that is told in the first person by one who does not understand the import of what she's revealing–very much like Molly Keane's 'Good Behavior,' in fact. Rachel goes entirely mad, but in a way that perfectly reveals a grim world of predatory intent and callousness all around her. It is a black comedy, exuberantly grotesque, but sad and poignant as well." –Katherine A. Powers, Boston Globe