In Tearing Haste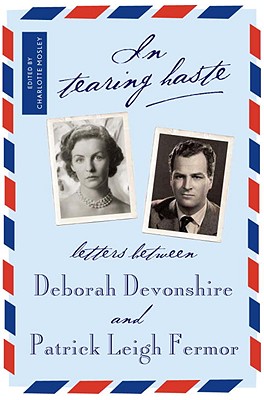 In Tearing Haste
Letters Between Deborah Devonshire and Patrick Leigh Fermor
New York Review of Books, Hardcover, 9781590173589, 416pp.
Publication Date: October 12, 2010
* Individual store prices may vary.
Buy at Local Store
Enter your zip code below to purchase from an indie close to you.
or
Buy Here
Description
In the spring of 1956, Deborah, Duchess of Devonshire, youngest of the six legendary Mitford sisters, invited the writer and war hero Patrick Leigh Fermor to visit Lismore Castle, the Devonshires' house in Ireland. The halcyon visit sparked a deep friendship and a lifelong exchange of highly entertaining correspondence. When something caught their interest and they knew the other would be amused, they sent off a letter--there are glimpses of President Kennedy's inauguration, weekends at Sandringham, filming with Errol Flynn, the wedding of Prince Charles and Camilla Parker-Bowles, and, above all, life at Chatsworth, the great house that Debo spent much of her life restoring, and of Paddy in the house that he and his wife designed and built on the southernmost peninsula of Greece. There rarely have been such contrasting styles: Debo--smart, idiosyncratic, and funny--darts from subject to subject, dashing off letters in her breezy, spontaneous style. Paddy, the polygot and widely read virtuoso, replies in the fluent polished manner that has earned him recognition as one of the finest writers in the English language. As editor Charlotte Mosley writes, "Much of the charm of the letters lies in their authors' particular outlook on life. Both are acutely observant and clear-sighted about human failings, but their lack of cynicism and gift for looking on the bright side bear out the maxim that the world tends to treat you as you find it. On the whole, the people they meet are good to them, the places they visit enchant them, and they succeed splendidly in all they set out to do. This lightheartedness--a trait that attracted many, often less sunny, people towards them--gives their letters an irresistible fizz and sparkle.
About the Author
Patrick Leigh Fermor (1915-2011) was an intrepid traveler, a heroic soldier, and a writer with a unique prose style. After his stormy schooldays, followed by the walk across Europe to Constantinople that begins in A Time of Gifts (1977) and continues through Between the Woods and the Water (1986), he lived and traveled in the Balkans and the Greek Archipelago. His books Mani (1958) and Roumeli (1966) attest to his deep interest in languages and remote places. In the Second World War he joined the Irish Guards, became a liaison officer in Albania, and fought in Greece and Crete. He was awarded the DSO and OBE. He lived partly in Greece--in the house he designed with his wife, Joan, in an olive grove in the Mani--and partly in Worcestershire. He was knighted in 2004 for his services to literature and to British-Greek relations. The Dowager Duchess of Devonshire (1920-1914) was the youngest of the six noted Mitford sisters. She became chatelaine and housekeeper of one of England's greatest and best-loved houses, but following her husband Andrew's death in 2004, she moved to a village on the Chatsworth Estate, where she died. Charlotte Mosley lives in Paris and has worked as a publisher and journalist. She is the editor of Love from Nancy: The Letters of Nancy Mitford, The Letters of Nancy Mitford and Evelyn Waugh, and The Mitfords: Letters Between Six Sisters.
Praise For In Tearing Haste…
"Spanning 1954 to 2007, the volume reads like an accidental memoir of a disappearing world stretching from the manor houses of the English aristocracy to the olive groves of Greece, its people and places rendered with a kind of care that's becoming scarce in our age of helter-skelter communication. At the same time, the book's title, a phrase deriving from Leigh Fermor's habit of dashing off messages 'with a foot in the stirrup,' captures the vigor and bustle of the lives that nourished the correspondence….In Tearing Haste is engaging from start to finish. There isn't a dull letter among Charlotte Mosley's selections. Even her annotations, often incorporating information from the book's two correspondents, are as surprising as they are informative….More than anything else, the collection is important as an addition to Leigh Fermor's body of work, both because his letters constitute a larger portion of the volume and because the writing in them harmonizes with the books that established his literary reputation." —The Nation

"This is a book that evokes a lost world of glamour, intelligence and personal scruples. The memory of its pristine landscapes, resolute gaiety and eccentric characters leaves a glorious afterglow." —Sunday Telegraph

"Spanning half a century, bursting with wit and conviviality…the result is surely one of the great 20th-century correspondences." —The Observer (London)

"This marvelous correspondence celebrates two of the most important things in the world, courage and friendship" —The Spectator

"Highly engaging exchanges of mutual joie de vivre." —The Times

"As full of fizz and conviviality as a glass of champagne" —Metro

"A feast for reading…An enchanting book." —Irish Examiner

"Chatty, witty, teasing, gossipy, relentlessly cheerful and with more than a hint of modest good sense, her short replies bounce off his beautiful essays like volleys of tennis balls off a cathedral." —The Scotsman