The World as I Found It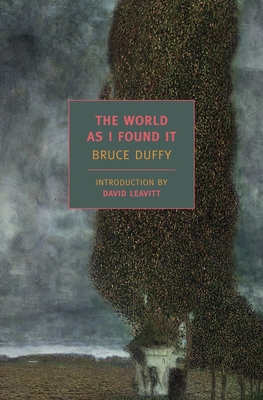 The World as I Found It
New York Review of Books, Paperback, 9781590173602, 592pp.
Publication Date: October 12, 2010
* Individual store prices may vary.
Buy Now
or
Shop Local
Enter your zip code below to purchase from an indie close to you.
Description
When Bruce Duffy's "The World As I Found It "was first published more than twenty years ago, critics and readers were bowled over by its daring reimagining of the lives of three very different men, the philosophers Bertrand Russell, G. E. Moore, and Ludwig Wittgenstein. A brilliant group portrait with the vertiginous displacements of twentieth-century life looming large in the background, Duffy's novel depicts times and places as various as Vienna 1900, the trenches of World War I, Bloomsbury, and the colleges of Cambridge, while the complicated main characters appear not only in thought and dispute but in love and despair. Wittgenstein, a strange, troubled, and troubling man of gnawing contradictions, is at the center of a novel that reminds us that the apparently abstract and formal questions that animate philosophy are nothing less than the intractable matters of life and death.
About the Author
Duffy is the recipient of a Guggenheim Fellowship, a Whiting Writer's Award and a Lila Wallace-Reader's Digest Award.

David Leavitt's first collection of stories, Family Dancing, was published when he was just twenty-three and was a finalist for both the National Book Critics Circle Award and the PEN/Faulkner Prize. The Lost Language of Cranes was made into a BBC film, and While England Sleeps was short-listed for the Los Angeles Times Fiction Prize. With Mark Mitchell, he coedited The Penguin Book of Short Stories, Pages Passed from Hand to Hand, and cowrote Italian Pleasures. Leavitt is a recipient of fellowships from both the John Simon Guggenheim Foundation and the National Endowment for the Arts. He divides his time between Italy and Florida.
Praise For The World as I Found It…
"The World As I Found It is both thought-provoking and hard to put down—a good read. It should be fascinating not only to Wittgenstein buffs, but to anyone who is curious about the ways philosophy and life both arise from each other and wage war on each other."
—Vicki Hearne

"Bruce Duffy's novel The World As I Found It, published in 1987, was one of the more astonishing literary debuts in recent memory. In defiance of common practice, Mr. Duffy gave the world not a tender, autobiographical coming-of-age story or a slim collection of finely wrought tales of family dysfunction but more than 500 pages of dazzling language and dizzying speculation on the life of Ludwig Wittgenstein." —A.O. Scott, The New York Times

"A novel constructed out of the lives, thoughts, appetites, egos, the very toenails and pocketwatches of Wittgenstein, Bertrand Russell, and G.E. Moore…astonishing." —Los Angeles Times

"Duffy has sustained a miracle. A rich, eloquent, poised masterwork that succeeds beyond one's most generous expectations." —Philadelphia Inquirer

"By turns wicked, melancholy, and rhapsodic, The World As I Found It is an astonishing performance, a kind of intellectual opera in which each abstraction gets its own artist." —Newsday

"It is hard to know which is the more outsized—the talent of Bruce Duffy or his nerve. Duffy is a superb writer." —Los Angeles Times

"Bruce Duffy's dazzling first novel, The World As I Found It blends fact and fiction in a story based on the unlikely figure of philosopher Ludwig Wittgenstein and his idiosyncratic quest for meaning in what he saw as the 20th century's chamber of horrors." —United Press International, November 1988

"Bruce Duffy… turned Wittgenstein's life into fresh, intelligent fiction." —Caryn James,  The New York Times.

"Stunning, bold first novel very loosely based on the erratic career of Austrian philosopher Ludwig Wittgenstein…Duffy has concocted letters, rearranged biography, toyed with language and philosophy, and come up with an idiosyncratic tale that, line after line, crackles with sharp wit. A spectacular first showing." —Kirkus

"This brilliant fiction could be mistaken for a racy biography of Wittgenstein, although it is only a broadly accurate account of the man. Duffy writes as memorably about sex and trench warfare as about philosophy." —Austin MacCurtain, The Sunday Times (London)

"Bruce Duffy's superb novel The World As I Found It, based on the life of Ludwig Wittgenstein, another seminal modern figure whose sexual life is handled circumspectly and who is also a guilt-ridden participant in the Great War." —Leslie Epstein, The New York Times

A 'sweeping arrangement of fact and fancy' about the philosopher Ludwig Wittgenstein." —George Johnson, The New York Times

"Abundant with life and almost unflaggingly interesting…The enigmatic Wittgenstein could imagine the unimaginable, but never would he have imagined it possible that he would one day appear as the protagonist of a novel and a delightful one, at that." —Publishers Weekly

"…readers who like a broad canvas will find this work appealing, moving as it does from uppercrust Vienna to pre-war Cambridge to the battlefields of World War I and World War II…compelling." —Barbara Hoffert, Library Journal