Nature Stories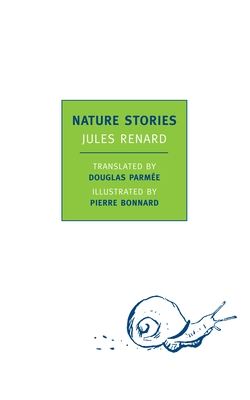 Nature Stories
New York Review of Books, Paperback, 9781590173640, 165pp.
Publication Date: December 7, 2010
* Individual store prices may vary.
Buy at Local Store
Enter your zip code below to purchase from an indie close to you.
or
Buy Here
Description
The natural world in all its richness, glimpsed variously in the house, the barnyard, and the garden, in ponds and streams, and at large in the woods and the fields, including old friends like the dog, the cat, the cow, and the pig, along with more unusual and sometimes alarming characters such as the weasel, the dragonfly, snakes of several sorts, and even a whale, not to mention ants in their seeming infinitude and a single humble potato all these and more are the subjects of what may well be the most deft and delightful book of literary miniatures ever written. In Jules Renard's world, plants and animals not only feel but speak (one species, the swallow, appears to write Hebrew), and yet, for all the anthropomorphic wit and whimsy the author indulges in, they guard their mystery too. Sly, funny, and touching, "Nature Stories," here beautifully rendered into English by Douglas Parmee and accompanied by the wonderful ink-brush images of Pierre Bonnard with which the book was originally published, is a literary classic of inexhaustible freshness.
About the Author
Jules Renard (1864-1910) est un ecrivain francais eminemment classique, membre de l'Academie Goncourt, ses livres, empreints d'humour et de poesie, ont fait et font l'objet de nombreuses editions tant en France qu'a l'etranger.
Ne en Mayenne a Chalons-du-Maine, c est a l age de deux ans qu il arrive a Chitry-les-Mines dans la Nievre, pays de son pere. Aussi s est-il toujours considere comme un enfant de de Chitry-les-mines. Tres jeune, le dernier enfant de la fratrie surnomme -Poil de carotte- par sa mere subit les tensions familiales et se rend compte qu il n est pas un enfant desire.
Pensionnaire a Nevers, Jules est recu bachelier es lettres en 1883 au lycee Charlemagne de Paris mais refuse de se presenter au concours de l Ecole normale superieure justifiant son choix dans une maxime reste celebre des "Bucoliques": -Je suis de la vieille ecole, moi, de l ecole qui ne sait pas lire-.
De fin 1881 a 1910, annee de sa mort, Jules Renard residera principalement a Paris meme s il montre un attachement particulier a celle qu il surnomme affectueusement -sa petite partie- en devenant tour a tour conseiller municipal a Chaumont puis maire de Chitry de 1904 a sa mort.
Indiscutablement, sa vie est inseparable de son terroir qu il considere comme son veritable refuge, des lors sonoeuvre litteraire en est tout autant impregnee. Qu'il s'agisse de "Poil de Carotte", son livre le plus connu, du "Vigneron dans sa vigne", d'"Histoires naturelles", de "Bucoliques" ou de son celebre "Journal", Renard puisera tres souvent jusqu a son deces a Chitry son inspiration dans la campagne de son enfance.
Guy de Maupassant (1850--1893), after serving in the Franco-Prussian War, became close friends with Flaubert and his circle. He wrote hundreds of short stories as well as novels and verse. In his later years, he suffered from mental illness, and he died in an asylum.
Douglas Parmee has translated works by Flaubert, Zola, Maupassant, Baudelaire, and Chamfort, among others, including the NYRB Classic "The Child" by Jules Valles. He is a past winner of the Society of Authors Scott-Moncrieff Prize for French translation. A lifetime fellow of Queens College, Cambridge, he now lives in Australia.
Praise For Nature Stories…
"Renard's way with the detail is unforgettable. Renard writes about spiders, about the moon, and the poetry he makes from the things his eyes tell him is joyful."
—Michael Silverblatt, Bookworm


"Renard's people—and animals and plants, too—are not reflections of Renard. They are not metaphors for his moods. They are not steps in his argument. They are as close as he can come to describing being someone or something not Renard. Renard's truthfulness is the truthfulness of a scrupulous, disinterested witness. You trust him as you trust a Quaker."
—Naomi Bliven, The New Yorker


"directly, or indirectly, Renard is at the origin of contemporary literature." —Jean-Paul Sartre

"There is no real equivalent for the French word esprit which is somewhere between and beyond humor and wit and which is essentially what these short commentaries on the bird and animal world display." —Kirkus Reviews

"The farmyard beasts, hunted game, insects and birds of the Nièvre were world enough for him [Renard]. Sometimes their activities add up to a story, sometimes an extended observation; or they might just provide a joyful moment—for instance, when a kingfisher comes and perches on his fishing-rod ('I was swelling with pride at having been taken for a tree'). And on almost every page there are brilliant descriptions and comparisons." – Julian Barnes, London Review of Books