Irretrievable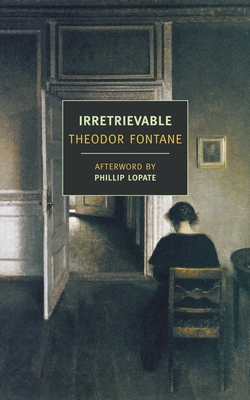 Irretrievable
New York Review of Books, Paperback, 9781590173749, 274pp.
Publication Date: February 15, 2011
* Individual store prices may vary.
Buy at Local Store
Enter your zip code below to purchase from an indie close to you.
or
Buy Here
Description
Opposites attract, and Helmut Holk and Christine Arne, the appealing married couple at the center of this engrossing book by one of Germany's greatest novelists, could not be less alike. Christine is a serious soul from a devout background. She is brooding and beautiful and devoted to her husband and their two children. Helmut is lighthearted and pleasure-loving and largely content to defer to his wife's deeper feelings and better wisdom. They live in a beautiful large house overlooking the sea, which they built themselves, and have been happily married for twenty-three years only of late a certain tension has crept into their dealings with each other. Little jokes, casual endearments, long-meditated plans: they all hit a raw nerve.
How a couple can slowly drift apart, until one day they find themselves in a situation which is nothing they ever wished for but from which they cannot go back, is at the heart of this timeless story of everyday life. Theodor Fontane's great gift is to tell the story effectively in his characters own words, listening to how they talk and fail to talk to each other, watching them turn away from their own true feelings as much as from each other. "Irretrievable" is a nuanced, affectionate, enormously sophisticated, and profoundly humane reckoning with the blindness of love.

About the Author
Fontane was born in Neuruppin, thirty miles northwest of Berlin. Although he received recognition relatively late in life, he is now thought of as the greatest German novelist between Goethe and Thomas Mann.

Guy de Maupassant (1850--1893), after serving in the Franco-Prussian War, became close friends with Flaubert and his circle. He wrote hundreds of short stories as well as novels and verse. In his later years, he suffered from mental illness, and he died in an asylum.
Douglas Parmee has translated works by Flaubert, Zola, Maupassant, Baudelaire, and Chamfort, among others, including the NYRB Classic "The Child" by Jules Valles. He is a past winner of the Society of Authors Scott-Moncrieff Prize for French translation. A lifetime fellow of Queens College, Cambridge, he now lives in Australia.

Phillip Lopate was born in 1943 Brooklyn, New York in and received a B.A. from Columbia in 1964 and later a doctorate from the Union Graduate School in 1979. He spent twelve years working with children as a writer in schools, and taught creative writing and literature at Fordham, Cooper Union, University of Houston, and New York University. Currently, Lopate holds the Adams Chair at Hofstra University and he is also a Fellow of the American Academy of Arts and Sciences. Among his many awards he has received a John Simon Guggenheim Fellowship, a New York Public Library Center for Scholars and Writers Fellowship, two National Endowment for the Arts grants, and two New York Foundation for the Arts grants. His work includes: These Eyes Don't Always Want to Stay Open (1972), Being With Children (1975), The Daily Round (1976), Confessions of Summer (1979), Bachelorhood: Tales of the Metropolis (1981), The Art of the Personal Essay (1995), Totally, Tenderly, Tragically (1998), Writing New York: A Literary Anthology (2000), Getting Personal (2003), Rudy Burckhardt: Life and Work (2004), Waterfront: A Journey Around Manhattan (2004), and American Movie Critics: An Anthology From the Silents Until Now (2006).
Praise For Irretrievable…
"[Irretrievable is] one of Fontane's most idiosyncratic achievements, and certainly one of the finest literary autopsies of a foundering relationship…. The pleasure of the novel lies in its subtlety—in this case, a discreet exploration of marital psychology. Here again, trouble starts within and, like a dry rot, eats its way outward….But even after the couple ostensibly reconcile, there's really nothing left; by the end of this mild yet anguished work, all that remains of the marriage is a lifeless residue of thwarted yearning—'nothing but the willingness to be happy.' As so often in the fiction of Theodor Fontane, that's not enough to save the characters, but it's a marvellous subject for a novel." – Daniel Mendelsohn, The New Yorker

"A minor masterpiece of translation. . . " —The Times Literary Supplement

"No writer of past or present stirs in me that kind of sympathy and gratitude, that immediate, instinctive delight, that reflex gaiety, warmth, and satisfaction, which I feel reading any of Fontane's verse, any line of his letters, any scrap of dialogue."
—Thomas Mann