Act of Passion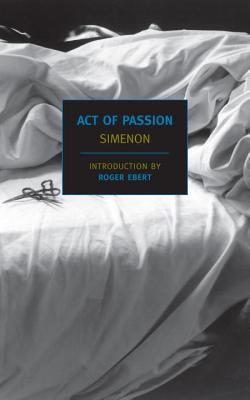 Act of Passion
New York Review of Books, Paperback, 9781590173855, 216pp.
Publication Date: October 18, 2011
* Individual store prices may vary.
Buy at Local Store
Enter your zip code below to purchase from an indie close to you.
or
Buy Here
Description
     For forty years Charles Alavoine has sleepwalked through his life. Growing up as a good boy in the grip of a domineering mother, he trains as a doctor, marries, opens a medical practice in a quiet country town, and settles into an existence of impeccable bourgeois conformity. And yet at unguarded moments this model family man is haunted by a sense of emptiness and futility.
     Then, one night, laden with Christmas presents, he meets Martine. It is time for the sleeper to awake.
About the Author
Georges Simenon was born in Liege, Belgium, in 1903. Best known in Britain as the author of the Maigret books, his prolific output of over 400 novels and short stories have made him a household name in continental Europe. He died in 1989 in Lausanne, Switzerland, where he had lived for the latter part of his life.

Unknown beyond the avant-garde at the time of his death in 1891, Arthur Rimbaud has become one of the most liberating influences on twentieth-century culture. Born Jean Nicolas Arthur Rimbaud in Charleville, France, in 1854, Rimbaud's family moved to Cours d'Orleans, when he was eight, where he began studying both Latin and Greek at the Pension Rossat. While he disliked school, Rimbaud excelled in his studies and, encouraged by a private tutor, tried his hand at poetry. Shortly thereafter, Rimbaud sent his work to the renowned symbolist poet Paul Verlaine and received in response a one-way ticket to Paris. By late September 1871, at the age of sixteen, Rimbaud had ignited with Verlaine one of the most notoriously turbulent affairs in the history of literature. Their relationship reached a boiling point in the summer of 1873, when Verlaine, frustrated by an increasingly distant Rimbaud, attacked his lover with a revolver in a drunken rage. The act sent Verlaine to prison and Rimbaud back to Charleville to finish his work on "A Season in Hell". The following year, Rimbaud traveled to London with the poet Germain Nouveau, to compile and publish his transcendent "Illuminations". It was to be Rimbaud's final publication. By 1880, he would give up writing altogether for a more stable life as merchant in Yemen, where he stayed until a painful condition in his knee forced him back to France for treatment. In 1891, Rimbaud was misdiagnosed with a case of tuberculosis synovitis and advised to have his leg removed. Only after the amputation did doctors determine Rimbaud was, in fact, suffering from cancer. Rimbaud died in Marseille in November of 1891, at the age of 37. He is now considered a saint to symbolists and surrealists, and his body of works, which include "Le bateau ivre" (1871), "Une Saison en Enfer" (1873), and "Les Illuminations" (1873), have been widely recognized as a major influence on artists stretching from Pablo Picasso to Bob Dylan.

Roger Ebert (1942-2013) was a film critic for the Chicago Sun-Times for more than forty years. In 1975 he became the first film critic to win the Pulitzer Prize. That same year he teamed up with his rival critic, Gene Siskel of the Chicago Tribune, to host a movie review program on public television. Sneak Previews became the most popular entertainment program on the PBS network and gave Ebert a nationwide audience. He is the author of numerous books on film including Awake in the Dark: The Best of Roger Ebert, the Great Movies essay collections, and a memoir, Life Itself.
Praise For Act of Passion…
"Open any of his major novels: at once, a magic takes effect. From the first paragraph, you are gripped as if by the jaws of a steel trap that will not release its hold until the final full stop of the last page; and, even then, after you have shut the book, you remain stunned. . . . Again and again we return [to Simenon] to draw the courage to contemplate our own misery without flinching."
—Simon Leys

"Simenon's romans durs are utterly unsentimental, frightening in the pitilessness of their gaze, yet wonderfully entertaining."
—John Banville

"Like Patricia Highsmith, Simenon grasped the psycho-pathology of the twentieth century at its intractable roots."
—Gary Indiana, New York

"Simenon's novels are acute, compact, remarkably varied, and as lapidary as great pop songs."
—Luc Sante

"Irresistible. A writer of total pessimism and total integrity, yet marvelously alive. . . . You read him at your peril, avoid him at your loss."
-The Sunday Times (London)