We Think the World of You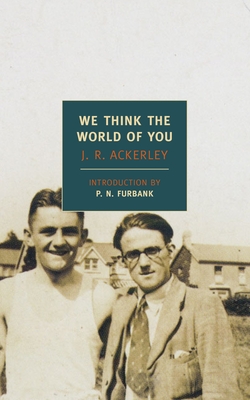 We Think the World of You
New York Review of Books, Paperback, 9781590173954, 209pp.
Publication Date: March 22, 2011
* Individual store prices may vary.
Buy Now
or
Shop Local
Enter your zip code below to purchase from an indie close to you.
Description
"We Think the World of You "combines acute social realism and dark fantasy, and was described by J.R. Ackerley as "a fairy tale for adults." Frank, the narrator, is a middle-aged civil servant, intelligent, acerbic, self-righteous, angry. He is in love with Johnny, a young, married, working-class man with a sweetly easygoing nature. When Johnny is sent to prison for committing a petty theft, Frank gets caught up in a struggle with Johnny's wife and parents for access to him. Their struggle finds a strange focus in Johnny's dog--a beautiful but neglected German shepherd named Evie. And it is she, in the end, who becomes the improbable and undeniable guardian of Frank's inner world.

About the Author
J. R. ACKERLEY (1896-1967) was for many years the literary editor of the BBC magazine "The Listener". A respected mentor to such younger writers as Christopher Isherwood and W. H. Auden, he was also a longtime friend and literary associate of E. M. Forster. His works include three memoirs -- "Hindoo Holiday, My Dog Tulip", and "My Father and Myself" -- and a novel, "We Think the World of You".

Furbank is Professor Emeritus at Open University.
Praise For We Think the World of You…
"The book is both breezy and sad. Ackerley's books are candid confessions of a good friend, full of small, hilarious surprises."
—Peter Terzian, Out

"The wife gets to visit the jail. The mother gets to adopt one of the children. The stepfather gets to beat the dog. Is there nothing for the middle-aged gay lover? At first Ackerley's novel seems to be a comedy about in-laws, and Frank's indignation to be his only and inadequate weapon against a family that knows and doesn't know who he is, however willing they are to take his money. But then Frank notices a member of the family as generous and jealous as he is, and as beautiful and as vital as his imprisoned lover. He turns all his malice to the project of freeing the dog, but what he achieves turns out to be darker and stranger than liberation."
—Caleb Crain

"The writer of this book belongs to that rare and interesting group of writers who contrive, without ever intending to do so, to make an art of their silences. What he does produce is like nothing that has ben written before or since." --The Times Literary Supplement

"A hugely funny book." --The Glasgow Herald


"A beautifully and superbly executed novel. . . .Each page seems to glow with what is written between the lines as well as with what is written on them. What a book this is!" --New Statesman