Berlin Stories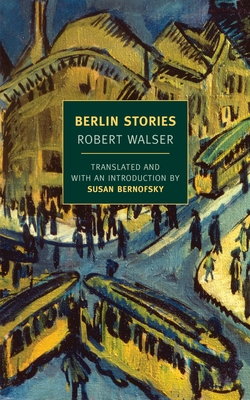 Berlin Stories
New York Review of Books, Paperback, 9781590174548, 139pp.
Publication Date: January 24, 2012
* Individual store prices may vary.
Buy at Local Store
Enter your zip code below to purchase from an indie close to you.
or
Buy Here
Description
A New York Review Books Original

In 1905 the young Swiss writer Robert Walser arrived in Berlin to join his older brother Karl, already an important stage-set designer, and immediately threw himself into the vibrant social and cultural life of the city. Berlin Stories collects his alternately celebratory, droll, and satirical observations on every aspect of the bustling German capital, from its theaters, cabarets, painters' galleries, and literary salons, to the metropolitan street, markets, the Tiergarten, rapid-service restaurants, and the electric tram. Originally appearing in literary magazines as well as the feuilleton sections of newspapers, the early stories are characterized by a joyous urgency and the generosity of an unconventional guide. Later pieces take the form of more personal reflections on the writing process, memories, and character studies. All are full of counter-intuitive images and vignettes of startling clarity, showcasing a unique talent for whom no detail was trivial, at grips with a city diving headlong into modernity.
About the Author
Born 1878 in Switzerland, Robert Walser was at various times in his life a bank teller, office clerk, scribe, house servant, machinist's assistant, and archivist. Although he wrote four novels and some poetry, his production consisted mainly of hundreds of small prose pieces. Being small was a key concern. His writing got smaller and smaller until, before he ceased writing altogether, he wrote a tiny script with letters about one millimeter high. By this time he had committed himself to a sanitarium where he remained for 27 years, mostly not writing. Always an avid taker of walks, Walser died in a snowdrift while out for a walk in 1956.



Susan Bernofsky is the acclaimed translator of Hermann Hesse, Robert Walser, and Jenny Erpenbeck, and the recipient of many awards, including the Helen and Kurt Wolff Prize and the Hermann Hesse Translation Prize. She teaches literary translation at Columbia University and lives in New York.
Praise For Berlin Stories…
"If ever a writer deserved the cliché that they have a voice all of their own, it's Walser. His style is strange but wholly accessible and full of charm…" —Metro (UK)

"The magnificently humble. The enormously small. The meaningfully ridiculous. Robert Walser's work often reads like a dazzling answer to the question, How immense can modesty be? If Emily Dickinson made cathedrals of em dashes and capital letters and the angle of winter light, Walser accomplishes the feat with, well, ladies' feet and trousers, and little emotive words like joy, uncapitalized."
—Rivka Galchen, Harper's

"Walser's fictions are charged with compassion: awareness of the creatureliness of life, of the fellowship of sadness. He is a truly wonderful, heartbreaking writer."
—Susan Sontag

"A writer of considerable wit, talent and originality . . . recognized by such impressive contemporaries as Kafka, Brod, Hesse and Musil . . . [and] primarily known to German literary scholars and to English readers lucky enough to have discovered [his work] . . . [Walser's tales] are to be read slowly and savored . . . [and] are filled with lovely and disturbing moments that will stay with the reader for some time to come." —Ronald De Feo, The New York Times