Religio Medici and Hydiotaphia, or Urne-Buriall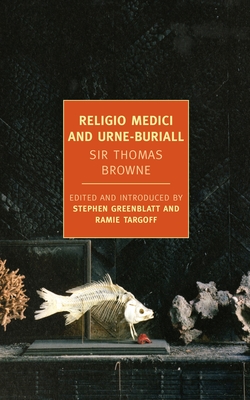 Religio Medici and Hydiotaphia, or Urne-Buriall
New York Review of Books, Paperback, 9781590174883, 170pp.
Publication Date: August 7, 2012
* Individual store prices may vary.
Buy at Local Store
Enter your zip code below to purchase from an indie close to you.
or
Not Currently Available for Direct Purchase
Description
Sir Thomas Browne is one of the supreme stylists of the English language: a coiner of words and spinner of phrases to rival Shakespeare; the wielder of a weird and wonderful erudition; an inquiring spirit in the mold of Montaigne. Browne was an inspiration to the Romantics as well as to W.G. Sebald, and his work is quirky, sonorous, and enchanting.
Here this baroque master's two most enduring and admired works, "Religio Medici" and "Urne-Buriall," appear in a new edition that has been annotated and introduced by the distinguished scholars Ramie Targoff and Stephen Greenblatt (author of the best-selling "Will in the World" and the National Book Award winning "The Swerve"). In "Religio Medici" Browne mulls over the relation between his medical profession and his profession of the Christian faith, pondering the respective claims of science and religion, questions that are still very much alive today. The discovery of an ancient burial site in an English field prompted Browne to write Urne-Buriall, which is both an early anthropological examination of different practices of interment and a profound meditation on mortality. Its grave and exquisite music has resounded for generations.
About the Author
Sir Thomas Browne (1605-1682) was an English Renaissance author and physician. He wrote extensively about medicine, geography, philosophy, and Christian spirituality.

Stephen Greenblatt (Ph.D. Yale) is Cogan University Professor of the Humanities at Harvard University. Also General Editor of "The Norton Shakespeare", he is the author of eleven books, including "The Swerve: How the World Became Modern; Shakespeare's Freedom"; "Will in the World: How Shakespeare Became Shakespeare"; "Hamlet in Purgatory"; "Practicing New Historicism"; "Marvelous Possessions: The Wonder of the New World"; and "Learning to Curse: Essays in Early Modern Culture". He has edited seven collections of criticism, including "Cultural Mobility: A Manifesto", and is a founding coeditor of the journal "Representations". His honors include the MLA's James Russell Lowell Prize for "Shakespearean Negotiations: The Circulation of Social Energy in Renaissance England", the Distinguished Humanist Award from the Mellon Foundation, the Wilbur Cross Medal from the Yale University Graduate School, the William Shakespeare Award for Classical Theatre, the Erasmus Institute Prize, two Guggenheim Fellowships, and the Distinguished Teaching Award from the University of California, Berkeley. He was president of the Modern Language Association of America and is a fellow of the American Academy of Arts and Sciences, the American Philosophical Society, and the American Academy of Arts and Letters.

Ramie Targoff is associate professor of English at Brandeis University. She is the author of "Common Prayer: The Language of Public Devotion in Early Modern England," also published by the University of Chicago Press.
Praise For Religio Medici and Hydiotaphia, or Urne-Buriall…
"The iniquity of oblivion blindly scatters her poppy seed and when wretchedness falls upon us one summer's day like snow, all we wish for is to be forgotten. These are the circles Browne's thought's describe." —W. G. Sebald, author of The Rings of Saturn

"Sir Thomas Browne, the wonderful 17th century baroque prose stylist and Borgesian speculative essayist whose works (such as Urne-Burial and Religio Medici) are inimitable idiosyncratic classics on the order of the Anatomy of Melancholy and Tristram Shandy." —New York Observer
 
"How does one recommend to the modern reader a writer whose two masterpieces are a rambling mediation about faith and human variety, and a study of burial customs? Yet Browne is one of the greatest of our prose writers, religious and at the same time intensely rational, and he observed the details of human life like the physician he was." —The Observer (London)
 
"Browne is a cracked archangel." —Herman Melville
 
"Browne is one of the great English prose stylists—the very greatest, some critics have even said and in certain respects he is the prose equivalent to the great 'Metaphusicals' in verse." —The Irish Times
 
"Browne has paved the way for all psychological novelists, autobiographers, confession-mongers, and dealers in the curious shades of our private life. He it was who first turned from the contacts of men with men to their lonely life within. . . . He is the first of the autobiographers."  —Virginia Woolf
 
"The iniquity of oblivion blindly scatters her poppy seed and when wretchedness falls upon us one summer's day like snow, all we wish for is to be forgotten. These are the circles Browne's thought's describe." —W. G. Sebald, author of The Rings of Saturn
 
"Scholars and polymaths come and go, but for sheer idiosyncrasy few could beat Sir Thomas Browne the 17th century doctor, botanist, naturalist, theologian, historian and mystic whose work comprises one of the most fascinatingly esoteric bodies of knowledge in English." —Tim Martin, The Times (London)
 
 
Praise for Urne-Buriall:
 
"One of the most celebrated examples of 17th century prose." —The New York Times
 
"It smells in every word of the sepulchre." —Ralph Waldo Emerson
 
"Like Hamlet, it is full of quotes . . . Browne is a miniaturist, and elegant raiser of ideas and a provoker of ideas in other: it was in a long note made in his copy by Coleridge that the very word 'marginalia' was invented. You can dip in and out of Urne-Burial: 'genially ambling prose,' as Terry Eagleton characterized Browne's generous, inquisitive style. It is the most soothing of mement mori." —The Guardian (London)
 
 
Praise for Religio Medici:

"A literary and medical classic." —Irish Times
 
"No desert island would be all bad that had upon it copies of Sir Thomas Browne's Religio Medici and Robert Burton's Anatomy of Melancholy." —The Age (Melbourne)
 
"Perhaps the two greatest meditations on ageing in English, Sir Thomas Browne's Religo Medici and Robert Burton's Anatomy of Melancholy." —Sunday Times (London)
 
"One of the masterworks of English prose" —Sunday Times (London)