The Sun King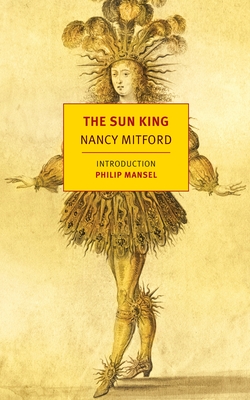 The Sun King
Louis XIV at Versailles
New York Review of Books, Paperback, 9781590174913, 189pp.
Publication Date: May 8, 2012
* Individual store prices may vary.
Buy at Local Store
Enter your zip code below to purchase from an indie close to you.
or
Buy Here
Description
"The Sun King" is a dazzling double portrait of Louis XIV and Versailles, the opulent court from which he ruled. With characteristic elan, Nancy Mitford reconstructs the daily life of king and courtiers during France's golden age, offering vivid sketches of the architects, artists, and gardeners responsible for the creation of the most magnificent palace Europe had yet seen. Mitford lays bare the complex and deadly intrigues in the stateroom and the no less high-stakes power struggles in the bedroom. At the center of it all is Louis XIV himself, the demanding, mercurial, but remarkably resilient sovereign who guided France through nearly three quarters of the Grand Siecle.
Brimming with sumptuous detail and delicious bons mots, and written in a witty, conversational style, "The Sun King" restores a distant glittering century to vibrant life.
About the Author
Mitford is the author of Noblesse Oblige and Don'tTell ALfred, Pigeon Pie, and Christmas Pudding.

Philip Mansel, who has lived and taught in Paris, is the author of, among other works, " Louis XVIII, The Court of France 1789-1830, "and "Constantinople: City of the World s Desire 1453-1924." He coedited "The French Emigres in Europe 1789-1814", has written for numerous newspapers and periodicals, and is editor of "the Court Historian", newsletter of the Society for Court Studies.
Praise For The Sun King…
"Irreverently lifts the skirts of the dolls of Versailles and rummages about underneath, exposing one gem of irresistible detail after another. . . . A glorious tribute to a glorious age." — The Irish Times

"[Mitford's] interest is focused on the human beings whose hopes, frustrations, and tragedies are hidden behind the stiff brocade of the period. The splendid century had its seamy side, and her racy narrative alternates between the glory and the grime, the ermine and the vermin." — The New York Times

"History, like the kingdom of heaven, has many mansions, Nancy Mitford's being, I suggest, a ravishingly pretty one, where anyone would be happy to spend time—and many have."  — Antonia Fraser

"Nancy Mitford excels in depicting both the brilliant romantic showcase and the recessed world of power. . . . No historian writing in English has given a better pen-picture of Versailles in its heyday." —Time

"A brilliant son et lumière performance." —Guardian
 
"Nancy Mitford was particularly well-equipped to write about Louis XIV: She spent much of her adult life in France and possessed a sharp eye for detail." — Washington Post Book World
 
"Nancy Mitford gives vivid, indeed searching, portraits of the Grand Monarch, and of his awe-struck relations and courtiers . . . she summarizes a wealth of information about the king's long, eventful life at Versailles . . . Readers will wish that her book were twice as long." — Sunday Times (London)