Voltaire in Love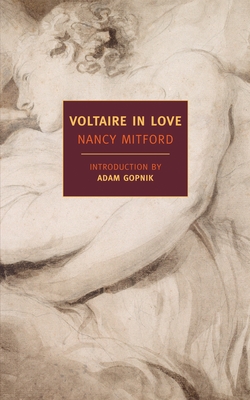 Voltaire in Love
New York Review of Books, Paperback, 9781590175781, 244pp.
Publication Date: November 6, 2012
* Individual store prices may vary.
Buy at Local Store
Enter your zip code below to purchase from an indie close to you.
or
Buy Here
Description
The inimitable Nancy Mitford's account of Voltaire's fifteen-year relationship with the Marquise du ChAtelet--the renowned mathematician who introduced Isaac Newton's revolutionary new physics to France--is a spirited romp in the company of two extraordinary individuals as well as an erudite and gossipy guide to French high society during the Enlightenment. Mitford's story is as delicious as it is complicated. The marquise was in love with another mathematician, Maupertuis, while she had an unexpected rival for Voltaire's affections in the future Frederick the Great of Prussia (and later in the philosophe's own niece). There was, at least, no jealous husband to contend with: the Marquis du ChAtelet, Mitford assures us, behaved perfectly. The beau monde of Paris was, however, distraught at the idea of the lovers' brilliant conversation going to waste on the windswept hills of Champagne, site of the ChAteau de Cirey, where experimental laboratories, a darkroom, and a library of more than twenty-one thousand volumes enabled them to pursue their "amours philosophiques." From time to time the threat of impending arrest would send Voltaire scurrying across the border into Holland, but his irrepressible charm--and the interventions of powerful friends--always made it possible for him resume his studies with the cherished marquise.
About the Author
Mitford is the author of Noblesse Oblige and Don'tTell ALfred, Pigeon Pie, and Christmas Pudding.

Adam Gopnik has been a staff writer forThe New Yorker since 1986. He has published many books includingParis to the Moon. He lives in New York City.
Praise For Voltaire in Love…
"Mitford writes with a profound sympathy for the 17th and 18th century, and Voltaire in Love caps her career as the nonpareil popular biographer of that era" – Michael Dirda, The Washington Post
 
"Voltaire in Love is Nancy Mitford's most searching book. On the surface it is all polish and wit: underneath it is solid history." – Time
 
"In this substantial but wonderfully gay and gossipy book, Miss Mitford details with a zest that is wholly engaging the idyllic moments and the hectic hours that marked the long association of these enormously intelligent lovers." – The New Yorker
 
"A superb, if somewhat bawdy, tale, a true story surpassing mortal invention." – Chicago Sunday Tribune
 
"A polished and entertaining piece of work." – Atlantic Monthly

"For anyone who relishes historical fiction and high romance, Nancy Mitford's Voltaire In Love is a modern classic." - The Spectator

 "In Voltaire in Love Miss Mitford contributes much of her own. Her style is, as always vivacious, the narrative headlong, the incidental humor often suitably wry….Miss Mitford is not concerned in her biographies with the inner motivations of her subjects. They enact their story upon her pages, they speak their lines, and they keep the reader absorbed and awake. In their way, because they are stamped with the creator's individuality, Miss Mitford's books are works of art." – The New York Times
 
"There are many accounts of their stormy, and highly productive, ménage à trois. Nancy Mitford once wrote a diverting book about it, Voltaire in Love (1957), which she described as less of a biography and more 'a Kinsey report on his romps with Mme du Châtelet.' Both sexually and intellectually, it was a time of high stimulation."  -- Richard Holmes, The New York Review of Books
 
"We see something of the other side of moon that was Voltaire in Nancy Mitford's splendidly suave and entertaining book about him, Voltaire in Love. This is the best thing she has ever written. It brings into play the style and the interests she displayed in her biography, Madame de Pompadour, and in at least of her novels, Love in the Cold Climate. Her approach to the dramatist and philosopher is through his long liason with a lady who excelled at mathematics and treatises on the widening field of science. This is as odd an alliance for a more worldly passion as anyone could hope to find, and Miss Mitford makes the most of the Voltairean jest of it….Her object is to take Voltaire away from the encyclopedias and the histories and show us the private life of a great encyclopedist and historian. She does that with casual excellence, scribbling a lively portrait of an age as well as her two leading characters' furies and felicities." – The New York Times