Cassandra at the Wedding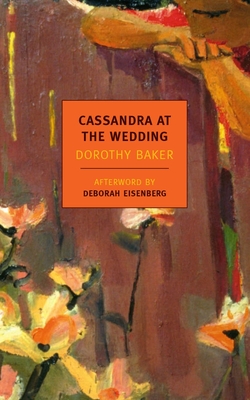 Cassandra at the Wedding
New York Review of Books, Paperback, 9781590176016, 241pp.
Publication Date: August 21, 2012
* Individual store prices may vary.
Buy Now
or
Shop Local
Enter your zip code below to purchase from an indie close to you.
Description
Cassandra Edwards is a graduate student at Berkeley: gay, brilliant, nerve-racked, miserable. At the beginning of this novel, she drives back to her family ranch in the foothills of the Sierras to attend the wedding of her identical twin, Judith, to a nice young doctor from Connecticut. Cassandra, however, is hell-bent on sabotaging the wedding.
Dorothy Baker's entrancing tragicomic novella follows an unpredictable course of events in which her heroine appears variously as conniving, self-aware, pitiful, frenzied, absurd, and heartbroken at once utterly impossible and tremendously sympathetic. As she struggles to come to terms with the only life she has, Cassandra reckons with her complicated feelings about the sister who she feels owes it to her to be her alter ego; with her father, a brandy-soaked retired professor of philosophy; and with the ghost of her dead mother.
First published in 1962, "Cassandra at the Wedding" is a book of enduring freshness, insight, and verve. Like the fiction of Jeffrey Eugenides and Jhumpa Lahiri, it is the work of a master stylist with a profound understanding of the complexities of the heart and mind.
About the Author


Deborah Eisenberg is the author of four collections of stories, including "Transactions in a Foreign Currency", "Under the 82nd Airborne", "All Around Atlantis", and "Twilight of the Superheroes". She is the recipient of a MacArthur Genius Grant, a Whiting Writers Award, and a Guggenheim Fellowship. She has taught at the University of Virginia and Columbia University.
Praise For Cassandra at the Wedding…
"An important achievement…intoxicating fun." — Lillian Smith
 
"[Baker's] ear for dialogue is acute, her prose immaculate…this is a novel of exceptional quality." — Times Literary Supplement
 
"I—whose usual bed time is ten o'clock—stayed up all night reading that exquisite Cassandra at the Wedding—dazzled by the pyrotechnics of such an artist. I can only think back to Young Man with a Horn, and be overwhelmed by Dorothy Baker's continuing brilliance." — Carson McCullers
 
"Dorothy Baker's Cassandra at the Wedding (New York Review Books, 2004) is another novel in which it's hard not to be caught up from the very first page by the first—person voice of the speaker. Originally published in 1962, this is the compulsively readable story of Cassandra's unwilling trip home to attend (or prevent) her twin sister Judith's wedding. She's one of those neurotic, intellegent women, trying to understand the direction her life has taken. Long out of print, this is just one of the wonderful titles (both fiction and non—fiction) brought back to life by a publishing company whose mission, according to editor Edwin Frank, is to rescue some of the many truly remarkable works of literature that have had the misfortune of falling out of print." -- Nancy Pearl, The Beat, KUOW 94.9 FM Seattle NPR
 
"Belongs with Salinger's Catcher in the Rye and McCullers's Member of the Wedding as a modern American classic." – Georgia Hammick
 
"A brilliantly told story…remarkably subtle…inexporably lucid." – The New York Times