Deadline Artists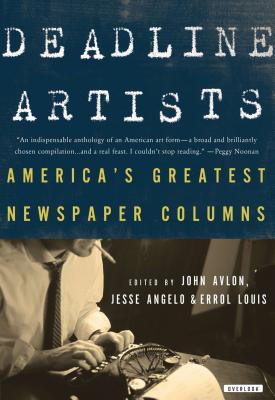 Deadline Artists
America's Greatest Newspaper Columns
Overlook Press, Hardcover, 9781590204290, 431pp.
Publication Date: September 21, 2011
* Individual store prices may vary.
Buy at Local Store
Enter your zip code below to purchase from an indie close to you.
or
Buy Here
Description
Contributors include: Jimmy Breslin, Mike Royko, Murray Kempton, Ernie Pyle, Peggy Noonan, Thomas L. Friedman, David Brooks, Mitch Albom, Dorothy Thompson, Ernest Hemingway, Benjamin Franklin, Fanny Fern, Richard Harding Davis, Grantland Rice, Will Rogers, Orson Welles, Langston Hughes, Woody Guthrie, Ambrose Bierce, Mark Twain, Theodore Roosevelt, H.L. Mencken, Ben Hecht, Westbrook Pegler, Heywood Broun, Damon Runyon, W. C. Heinz, Jimmy Cannon, Red Smith, Russell Baker, Art Buchwald, William F. Buckley, Hunter S. Thompson, Pete Dexter, Carl Hiaasen, Dave Barry, Leonard Pitts, Anna Quindlen, Thomas Boswell, Tony Kornheiser, Kathleen Parker, Maureen Dowd, Bob Herbert, Michael Kinsley, Cynthia Tucker, George Will, Jack Newfield, Mike Barnicle, Pete Hamill and Steve Lopez.
About the Author
John Avlon is the creator of the breakout Wingnut of the Week segment on CNN, and from his Daily Beast columns and commentary on cable news. He is also a regular contributor to CNN s American Morning and Campbell Brown. He is the author of Independent Nation: How Centrists Can Change American Politics. Tina Brown (foreword) is the founder and editor-in-chief of The Daily Beast. She is the author of the 2007 New York Times best seller The Diana Chronicles. Brown is the former editor of Tatler, Vanity Fair, The New Yorker, and Talk magazines and host of CNBC s Topic A with Tina Brown .