The Yoga-Sutra of Patanjali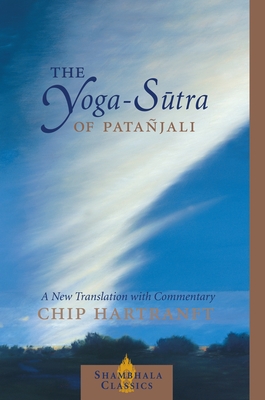 The Yoga-Sutra of Patanjali
A New Translation with Commentary
Shambhala, Paperback, 9781590300237, 144pp.
Publication Date: April 1, 2003
* Individual store prices may vary.
Buy Now
or
Shop Local
Enter your zip code below to purchase from an indie close to you.
Description
In just 196 short aphorisms, this classic work of Indian philosophy spells out succinctly how the mind works, and how it is possible to use the mind to attain liberation. Compiled in the second or third century CE, the "Yoga-Sutra "is a road map of human consciousness--and a particularly helpful guide to the mind states one encounters in meditation, yoga, and other spiritual practices. It expresses the truths of the human condition with great eloquence: how we know what we know, why we suffer, and how we can discover the way out of suffering. Chip Hartranft's fresh translation and extensive, lucid commentary bring the text beautifully to life. He also provides useful auxiliary materials, including an afterword on the legacy of the "Yoga-Sutra "and its relevance for us today.
About the Author
Chip is the founder of the Arlington Center in Arlington, Massachusetts, an organization dedicated to the practice of yoga, meditation, and the hearling arts.


Praise For The Yoga-Sutra of Patanjali…
"Extraordinarily clear. . . . Hartranft makes Patañjali's complications seem somehow obvious."—Shambhala Sun



"A Yoga Sutra for the twenty-first century . . . translated into plain (but not boring) accessible language. . . . If there's a more succinct explanation of the enduring value of Patañjali's work, I'd sure like to hear it."—Yoga Journal

"Chip Hartranft has given us a fresh, authoritative, and brilliant new translation of and commentary on the Yoga-Sutra, and an entire generation of American yogis should be deeply grateful. His work successfully combines intellectual precision with emotional accessibility—a powerful marriage seldom even attempted with this notoriously difficult text. Hartranft is careful always to leave Patañjali's own genius in the foreground, and as a result the astounding intellectual architecture of the Yoga-Sutra shines through. Bravo!"—Stephen Cope, author of Yoga and the Quest for the True Self



"Much of contemporary yoga in the West has emphasized breathing and the body. These invaluable practices have been separated from the comprehensive ethical and meditative approach of the great teacher Patañjali. Recently there has been an increased interest in correcting this limitation. Chip Hartranft's brilliant new translation of and commentary on Patañjali's masterpiece moves interested yogis decisively in this direction. It is a clear and inspiring work of immense value for all serious practitioners."—Larry Rosenberg, author of Breath by Breath and Living in the Light of Death