Training the Mind & Cultivating Loving-Kindness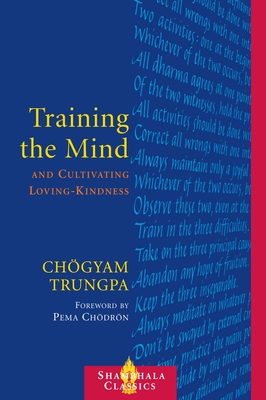 Training the Mind & Cultivating Loving-Kindness
Shambhala, Paperback, 9781590300510, 144pp.
Publication Date: July 29, 2003
* Individual store prices may vary.
Shop Local
Enter your zip code below to find indies closest to you.
Description
Warning: Using this book could be hazardous to your ego The slogans it contains are designed to awaken the heart and cultivate love and kindness toward others. They are revolutionary in that practicing them fosters abandonment of personal territory in relating to others and in understanding the world as it is.
The fifty-nine provocative slogans presented here--each with a commentary by the Tibetan meditation master ChOgyam Trungpa--have been used by Tibetan Buddhists for eight centuries to help meditation students remember and focus on important principles and practices of mind training. They emphasize meeting the ordinary situations of life with intelligence and compassion under all circumstances. Slogans include, "Don't be swayed by external circumstances," "Be grateful to everyone," and "Always maintain only a joyful mind."
This edition contains a new foreword by Pema ChOdrOn.
About the Author
Ch?gyam Trungpa (1940 1987) meditation master, scholar, and artist was founder and president of Vajradhatu, Naropa University, and Shambhala Training. His many books include Cutting Through Spiritual Materialism, Shambhala: The Sacred Path of the Warrior, The Myth of Freedom, Meditation in Action, and Great Eastern Sun.



Pema Chodron_ is an American-born Buddhist nun and the author of many spiritual classics, including When Things Fall Apart (Shambhala, 2002), The Places that Scare You (Shambhala, 2004), and Taking the Leap (Shambhala, 2009). She serves as resident teacher at Gampo Abbey Monastery in Nova Scotia and is a student of Dzigar Kongtrul and the late Chogyam Trungpa. See pemachodronfoundation.org.