The Art of War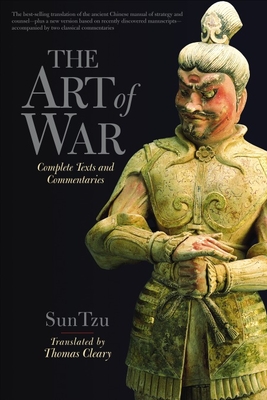 The Art of War
Complete Text and Commentaries
Shambhala, Paperback, 9781590300541, 474pp.
Publication Date: June 10, 2003
* Individual store prices may vary.
Shop Local
Enter your zip code below to find indies closest to you.
Description
Sun Tzu's "Art of War," compiled more than two thousand years ago, is a study of the anatomy of organizations in conflict. It is perhaps the most prestigious and influential book of strategy in the world today. Now, this unique volume brings together the essential versions of Sun Tzu's text, along with illuminating commentaries and auxiliary texts written by distinguished strategists. The translations, by the renowned translator Thomas Cleary, have all been published previously in book form, except for "The Silver Sparrow Art of War, "which is available here for the first time. This comprehensive collection contains:

"The Art of War: " This edition of Sun Tzu's text includes the classic collection of commentaries by eleven interpreters.

"Mastering the Art of War: "Consisting of essays by two prominent statesmen-generals of Han dynasty China, Zhuge Liang and Liu Ji, this book develops the strategies of Sun Tzu's classic into a complete handbook of organization and leadership. It draws on episodes from Chinese history to show in concrete terms the proper use of Sun Tzu's principles.

"The Lost Art of War: "Written more than one hundred years after Sun Tzu's text, by Sun Bin, a linear descendant of Sun Tzu, this classic of political and military strategy is faithful to the principles of "The Art of War," while developing their practical application much further.

"The Silver Sparrow Art of War: " A version of Sun Tzu's "Art of War " based on a manuscript of the classic text discovered at a Chinese archeological site in China's Shandong Province in 1972, which contains previously unknown fragments.
About the Author
Thomas Cleary holds a Ph.D. in East Asian Languages and Civilizations from Harvard University. He is the translator of more than fifty volumes of Buddhist, Taoist, Confucian, and Islamic texts from Sanskrit, Chinese, Japanese, Pali, and Arabic.

Sun Tzu, also known as Sun Wu or Sunzi, was an ancient Chinese military strategist believed to be the author of the acclaimed military text, The Art of War. Details about Sun Tzu s background and life are uncertain, although he is believed to have lived c. 544-496 BCE. Through The Art of War, Sun Tzu s theories and strategies have influenced military leaders and campaigns throughout time, including the samurai of ancient and early-modern Japan, and more recently Ho Chi Minh of the Viet Cong and American generals Norman Swarzkopf, Jr. and Colin Powell during the Persian Gulf War in the 1990s.

Thomas Cleary is the translator of "Opening the Dragon Gate" by Chen Kaiguo and Zhen Shunchao and "The Story of Chinese Zen" by Nan Huai-Chin, as well as "The Art of War" by Sun Tzu, "The Book of Five Rings" by Miyamoto Musashi, "The Japanese Art of War," and dozens of other titles on martial philosophy, Buddhism, Taoism, religion, and philosophy. He was born in 1949 and lives in Oakland, CA.
Praise For The Art of War…
"Thomas Cleary's translation of The Art of War makes immediately relevant one of the greatest Chinese classical texts. There's not a dated maxim or vague prescription in it. . . .You can throw out all those contemporary books about management and leadership."—Newsweek