The Sanity We Are Born with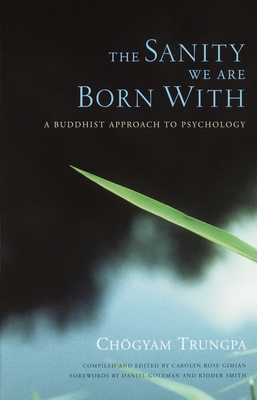 The Sanity We Are Born with
A Buddhist Approach to Psychology
Shambhala, Paperback, 9781590300909, 240pp.
Publication Date: February 1, 2005
* Individual store prices may vary.
Buy at Local Store
Enter your zip code below to purchase from an indie close to you.
or
Buy Here
Description
More and more mental health professionals are discovering the rich tradition of Buddhist psychology and integrating its insights into their work with clients. Buddhist tradition teaches that all of us are born with what ChOgyam Trungpa terms "basic sanity," or inherent goodness, health, and clear perception. Helping ourselves and others to connect with this intrinsic ground of sanity and health is the subject of this collection of teachings, which the author gave to Western psychologists, psychotherapists, and students of Buddhist meditation over a number of years.
"The Sanity We Are Born With " describes how anyone can strengthen their mental health, and it also addresses the specific problems and needs of people in profound psychological distress. Additionally, the author speaks to the concerns of psychotherapists and any health care professionals who work with their patients' states of mind. The collection includes teachings on:
- Buddhist concepts of mind, ego, and intelligence, and how these ideas can be employed in working on oneself and with others
- meditation as a way of training the mind and cultivating mindfulness
- nurturing our intrinsic health and basic sanity
- guidance for psychotherapists and health professionals.
About the Author
Chogyam Trungpa (1940 1987) was a pioneer in presenting the teachings of mindfulness in North America. Buddhist meditation master, teacher, and artist, he is the author of numerous books including Smile at Fear: Awakening the True Heart of Bravery; Work, Sex, Money: Real Life on the Path of Mindfulness; and Shambhala: The Sacred Path of the Warrior.

Daniel Goleman, PH.D. is also the author of the worldwide bestseller Working with Emotional Intelligence and is co-author of "Primal Leadership: Learning to Lead with Emotional Intelligence," written with Richard Boyatzis and Annie McKee.
Dr. Goleman received his Ph.D. from Harvard and reported on the brain and behavioral sciences for The New York Times for twelve years, where he was twice nominated for the Pulitzer Prize. He was awarded the American Psychological Association's Lifetime Achievement Award and is currently a Fellow of the American Association for the Advancement of Science His other books include Destructive Emotions," The Meditative Mind, The Creative Spirit, and Vital Lies, Simple Truths.
"
Praise For The Sanity We Are Born with…
"Chögyam Trungpa was the first Buddhist master to present Buddhism in a psychological language that spoke directly to the Western mind. This highly recommended volume, which brings together his penetrating views on Buddhist and Western psychology, will be of great interest to psychotherapists, students of Dharma, and anyone who is concerned with the relationship between the native sun of awakened wisdom within us and the psychological clouds that obscure its light."—John Welwood, author of Towards a Psychology of Awakening