The Diamond Sutra and the Sutra of Hui-Neng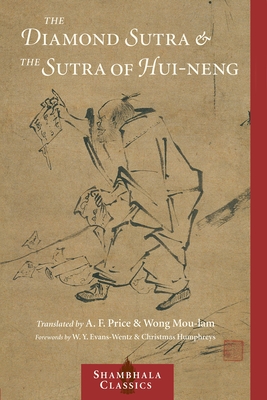 The Diamond Sutra and the Sutra of Hui-Neng
Shambhala Publications, Paperback, 9781590301371, 166pp.
Publication Date: November 8, 2005
* Individual store prices may vary.
Buy Now
or
Shop Local
Enter your zip code below to purchase from an indie close to you.
Description
"The Diamond Sutra," composed in India in the fourth century CE, is one of the most treasured works of Buddhist literature and is the oldest existing printed book in the world. It is known as the "Diamond Sutra " because its teachings are said to be like diamonds that cut away all dualistic thought, releasing one from the attachment to objects and bringing one to the further shore of enlightenment. The format of this important sutra is presented as a conversation between the Buddha and one of his disciples. "The Sutra of Hui-neng," also known as the "Platform Sutra," contains the autobiography of a pivotal figure in Zen history and some of the most profound passages of Zen literature. Hui-neng (638 713) was the sixth patriarch of Zen in China, but is often regarded as the true father of the Zen tradition. He was a poor, illiterate woodcutter who is said to have attained enlightenment upon hearing a recitation of the "Diamond Sutra." Together, these two scriptures present the central teaching of the Zen Buddhist tradition and are essential reading for all students of Buddhism.

About the Author




WALTER YEELING EVANS-WENTZ, born February 2, 1878, in Trenton, New Jersey, attended Stanford University where he received his B.A. and his M.A. Evans-Wentz traveled extensively in Mexico, Europe, and the Far East. He spent several in Tibet, where he became a Buddhist monk. He was a pioneer in the field of Tibetan Buddhism and authored several classic books on the subject, including the Tibetan Book of the Dead, Tibetan Yoga and Secret Doctrines, the Tibetan Book of the Great Liberation, and Tibet's Great Yogi Milarepa. He died in 1957.