Dhammapada, the Buddhist I Ching, Stopping and Seeing, Entry Into the Inconceivable, Buddhist Yoga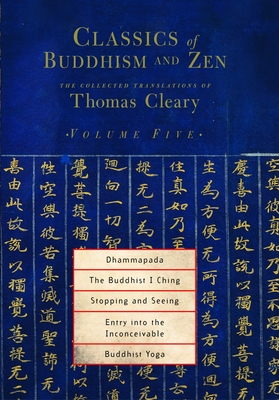 Dhammapada, the Buddhist I Ching, Stopping and Seeing, Entry Into the Inconceivable, Buddhist Yoga
Shambhala Publications, Paperback, 9781590302224, 837pp.
Publication Date: April 12, 2005
* Individual store prices may vary.
Buy Now
or
Shop Local
Enter your zip code below to purchase from an indie close to you.
Description
Volume Five of "Classics of Buddhism and Zen " represents the broad spectrum of Cleary's interest in Buddhism--from Buddhist yoga and the Chinese Buddhist perspective on the "I Ching " to the most basic and universally loved of the Buddhist sutras, the "Dhammapada."

The volume includes:
"Dhammapada: The Sayings of Buddha "
The famous collection of 423 verses of Buddhist wisdom that has been profoundly influential in every Buddhist school.
"The Buddhist I Ching "
The translation included in this volume is the only full-length interpretation of the "I Ching " by a Chinese Buddhist meditation master.
"Stopping and Seeing: A Comprehensive Course in Buddhist Meditation "
A monumental work written by sixth-century Buddhist master Chi-i. One of the most comprehensive manuals written on these two essential points of Buddhist meditation.
"Entry into the Inconceivable: An Introduction to Hua-yen Buddhism "
An introduction to the philosophy of the Hua-yen school of Buddhism, one of the cornerstones of East Asian Buddhist thought.
"Buddhist Yoga: A Comprehensive Course "
A landmark translation of the classical sourcebook of Buddhist yoga, the "Sandhinirmochana-sutra," or "Scripture Unlocking the Mysteries," a revered text of the school of Buddhism known as Vijnanavada or Yogachara.
About the Author
Thomas Cleary is the translator of "Opening the Dragon Gate" by Chen Kaiguo and Zhen Shunchao and "The Story of Chinese Zen" by Nan Huai-Chin, as well as "The Art of War" by Sun Tzu, "The Book of Five Rings" by Miyamoto Musashi, "The Japanese Art of War," and dozens of other titles on martial philosophy, Buddhism, Taoism, religion, and philosophy. He was born in 1949 and lives in Oakland, CA.