The Unknown Sayings of Jesus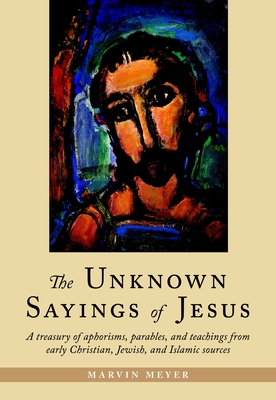 The Unknown Sayings of Jesus
New Seeds, Paperback, 9781590302743, 177pp.
Publication Date: September 13, 2005
* Individual store prices may vary.
Buy Now
or
Shop Local
Enter your zip code below to purchase from an indie close to you.
Description
Hundreds of sayings were attributed to the sage from Nazareth by ancient admirers. More than fifteen hundred versions of five hundred quotations are attributed to Jesus in the New Testament, the Gospel of Thomas, and other Gospels found at Nag Hammadi. Marvin Meyer has combed additional Jewish, Muslim, and Christian sources for another 200 of the most fascinating epigrams and parables ascribed to Jesus. Dr. Meyer includes an intriguing introduction and annotations that put the sayings into perspective.
About the Author
Marvin Meyer is one of the "foremost" scholars on early Christianity and texts about Jesus outside the New Testament. He is Griset Professor of Bible and Christian Studies at Chapman University in Orange, California. Among his recent books are "The Gospel of Judas", "The Gnostic Gospels of Jesus", "The Gospels of Mary", "The Gospel of Thomas", and "The Nag Hammadi Scriptures".
Praise For The Unknown Sayings of Jesus…
"Hundreds of sayings were attributed to the sage from Nazareth by ancient admirers. More than fifteen hundred versions of five hundred quotations are attributed to Jesus in the New Testament, the Gospel of Thomas, and other gospels found at Nag Hammadi. Marvin Meyer has combed additional Jewish, Muslim, and Christian sources for another two hundred of the most fascinating epigrams and parables ascribed to Jesus. This new resource prepared by a veteran scholar will be invaluable to everyone engaged in a quest to discover the authentic voice of Jesus."—Robert W. Funk, founder of the Jesus Seminar, author of The Acts of Jesus



"First there was the Jesus of history. Then there was the Christ of the Gospels. But third there was the echo of Jesus that reverberated throughout the world in the first centuries of Christian history. Marvin Meyer has attempted to capture the echo. By searching Christian, Jewish, and Islamic sources he found Jesus quoted in sometimes familiar and sometimes startling ways, and he lays them out beautifully. The result is a treasure!"—John Shelby Spong, author of Rescuing the Bible from Fundamentalism



"Since the discovery of the Gospel of Thomas, Marvin Meyer's exciting Unknown Sayings of Jesus is the major revelation of Yeshua's diverse extracanonical voices—here presented in invisibly deep scholarship and elegantly simple English to give us a spiritual page-turner."—Willis Barnstone, editor of The Other Bible



"A most valuable and fascinating book indeed. It gives us insight not only into what Jesus—peace be upon him—said or might have said, but also into the ways he was admired in different cultures and times."—Muzzammil H. Siddiqi, president of the Islamic Society of North America and adjunct professor of Islamic Studies and World Religions, California State University, Fullerton