Meister Eckhart, from Whom God Hid Nothing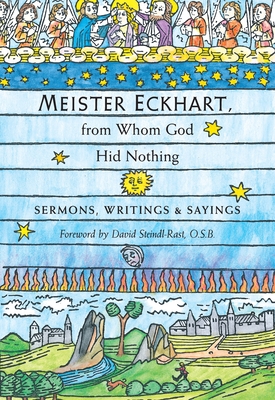 Meister Eckhart, from Whom God Hid Nothing
Sermons, Writings, and Sayings
New Seeds, Paperback, 9781590302798, 128pp.
Publication Date: December 13, 2005
* Individual store prices may vary.
Buy at Local Store
Enter your zip code below to purchase from an indie close to you.
or
Buy Here
Description
This introduction to the writing and preaching of the greatest medieval European mystic contains selections from his sermons, treatises, and sayings, as well as Table Talk, the records of his informal advice to his spiritual children.
About the Author
Meister Eckhart (12601327) was a German Dominican theologian and popular preacher who believed that God is best approached through paradox and mystery rather than through reason or logic. His works have rung true with seekers for more than eight hundred years."
Praise For Meister Eckhart, from Whom God Hid Nothing…
"Even though the Roman Catholic Church tried hard to suppress its German Dominican priest, Meister Eckhart, by excommunication and condemnation, his writings have remained influential. Eckhart has been especially important among those seeking ways to connect Eastern religious traditions to Christian ones. The problem is that Eckhart's writing is difficult reading, losing much in translation not only from German to English but also from the 13th to the 20th century. O'Neal has produced an exceptional introductory edition that makes Eckhart more accessible. O'Neal's edition is an important introduction to Eckhart's work in that it draws the best texts from the most successful translations and, from them, produces a rich tapestry of presentation for this often quoted and little understood Rhineland mystic."— Publishers Weekly



"That Meister Eckhart is among the most important of Christian mystics is beyond dispute, so any collection that makes his work accessible to a wider audience is welcome. This new collection assembles material from existing translations along with a foreword by an important contemporary Benedictine mystic. The material is organized with an eye toward easing readers into Eckhart, beginning with short quotations then moving to table talk, sermons, and other longer pieces."—Steve Schroeder, Booklist