Climbing Jacob's Ladder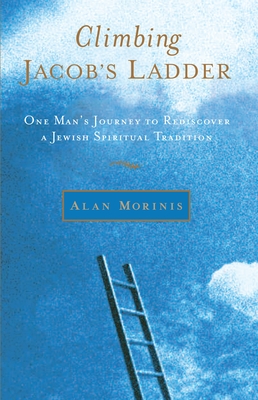 Climbing Jacob's Ladder
One Man's Journey to Rediscover a Jewish Spiritual Tradition
Trumpeter, Paperback, 9781590303665, 225pp.
Publication Date: May 8, 2007
* Individual store prices may vary.
Not Currently Available for Direct Purchase
or
Shop Local
Enter your zip code below to purchase from an indie close to you.
Description
Jewish by birth, though from a secular family, Alan Morinis explored Hinduism and Buddhism as a young man. But in 1997, in the face of personal crisis, he turned to his Jewish heritage for guidance. In his reading he happened upon a Jewish spiritual tradition called Mussar. Gradually he realized that he had stumbled upon an insightful discipline for self-development, complete with meditative, contemplative, and other well-developed transformative practices designed to penetrate the deepest roots of the inner life.
Eventually reaching the limits of what he could learn on his own, he decided to seek out a Mussar teacher. This was not an easy task, since almost the entire world of the Mussar tradition had been wiped out in the Holocaust. In time, he found an accomplished master who stood in an unbroken line of transmission of the Mussar tradition, and who lived in the center of a community of Orthodox Jews on Long Island. This book tells the story of Morinis's journey to meet his teacher and what he learned from him, revealing the central teachings and practices that are the spiritual treasury and legacy of Mussar.
About the Author
Alan Morinis is the founder and dean of the Mussar Institute. A leading contemporary interpreter of Mussar teachings and practices, he is the author of Climbing Jacob's Ladder: One Man's Journey to Rediscover a Jewish Spiritual Tradition, Everyday Holiness: The Jewish Spiritual Path of Mussar, and other books.
Praise For Climbing Jacob's Ladder…
"Climbing Jacob's Ladder contains a plethora of practices for those on a spiritual path: meditations to develop concentration and a clear mind, reciting holy phrases, examining the choices we make, practicing right speech, and removing the obstacles that obstruct the flow of love."—Spirituality & Practice

"Climbing Jacob's Ladder is a compelling portrait of the relationship between a student and a teacher, and Morinis's journey—as an assimilated Jew entering the Orthodox world of yeshiva—raises important questions about the meaning of Judaism and the search for spirituality in this world."—The Los Angeles Times


"Clearly written and thought provoking, this book is both an engaging memoir and an introduction to the little-known heritage of Mussar, which teaches that by changing one's self, one can change the world."—The Canadian Jewish News

"A moving account. . . . The achievement of personal growth through spirituality is richly demonstrated by this touching account of the author's journey to Judaism."—Publishers Weekly

"Alan Morinis, in his spiritual journey, has struck a rich vein of Judaism. This offering feels like a heart-gift to us."—Ram Dass, author of Still Here 


"Offers insightful treats for anyone who follows a spiritual path."—Daniel Goleman, author of Emotional Intelligence

"Alan Morinis has provided us with a fascinating, deeply personal account of his journey back to Jewish spirituality through an encounter with the little-known heritage of Mussar, the Jewish discipline of self-perfection. This is a beautifully written and engaging book, a timely reminder that by changing ourselves we can begin to change the world."—Rabbi Dr. Jonathan Sacks, Chief Rabbi of Britain and the Commonwealth

"This book is essential for every thinking person. Like Jethro of the Bible, Alan Morinis found the secret of dignified human life in the teachings of Mussar after all other searches were fruitless.We owe him a debt of gratitude for introducing some light in one of the darkest moments in mankind's history."—Rabbi Dr. Abraham J. Twerski, MD, author of Angels Don't Leave Footprints

"Morinis's shimmering portrait of one of the masters of Mussar is religious portraiture rarely paralleled. A delight for novice and expert alike."—Rabbi Hillel Goldberg, author of The Fire Within: The Living Heritage of the Mussar Movement

"Climbing Jacob's Ladder is a gutsy, glowing account of one man's encounter with a potent spiritual practice and how it transformed his life.This is a precious book—that rare combination of solid wisdom and good literature."—Larry Dossey, MD, author of Healing Beyond the Body

"A compelling story of spiritual discovery and initiation. This tale of personal liberation focuses on no-nonsense lessons in rising out of meaninglessness and spiritual fog."—Thomas Moore, author of Care of Soul