Islands Apart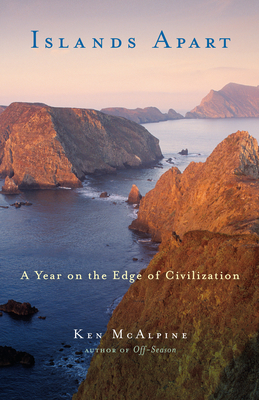 Islands Apart
A Year on the Edge of Civilization
Trumpeter, Paperback, 9781590305300, 256pp.
Publication Date: July 14, 2009
* Individual store prices may vary.
Buy at Local Store
Enter your zip code below to purchase from an indie close to you.
or
Not Currently Available for Direct Purchase
Description
Author Ken McAlpine stands in his front yard one night in Ventura, California, trying to see the stars. His view is diminished by light pollution, making it hard to see much of anything in the sky. Our fast-paced, technologically advanced society, he concludes, is not conducive to stargazing or soul-searching. Taking a page from Thoreau's Walden, he decides to get away from the clamor of everyday life, journeying alone through California's Channel Islands National Park. There, he imagines, he might be able to "breathe slowly and think clearly, to examine how we live and what we live for."

In between his week-long solo trips through these pristine islands, McAlpine reaches out to try to better understand his fellow man: he eats lunch with the homeless in Beverly Hills, sits in the desert with a 98-year-old Benedictine monk, and befriends a sidewalk celebrity impersonator in Hollywood. What he discovers about himself and the world we live in will inspire anyone who wishes they had the time to slow down and notice the wonders of nature and humanity.
About the Author
Ken McAlpine is the author of five books. Rise of the Mooncusser is the prequel to his novel Fog, described as "a 21st century Moby Dick that pits Pomp, an obsessed character who will stop at nothing, against Daniel Cole, a good man who has an opportunity to stop the madness but can't. McAlpine writes in the style of Melville, Conrad and Hemingway" and "one of the most intelligent, richly detailed, deeply felt and evocative novels I've read." His novel Together We Jump was praised by Sunset Magazine as "lyrical, evocative and deeply moving... a luminous American novel," and by the Los Angeles Review as "a poetic roller coaster ride through the mind and soul... rendered with eerily realistic plot and dialogue." His first book, the non-fiction work Off Season: Discovering America on Winter's Shore, was a Barnes and Noble Discover Great New Writers selection. His follow-up non-fiction book Islands Apart: A Year on the Edge of Civilization was called "a rumination on what it means to be human," and McAlpine was lauded as "a humorous and humble guide who takes his contemplation of our busy world into unexpected places." He is also the author of West is Eden: Reflections on this Gift Called Life, a collection of essays. McAlpine's magazine articles have earned three Lowell Thomas awards, travel writing's top award. More important to him, assignments from magazines ranging from National Geographic Traveler to Sunset, have provided him unbridled opportunity for play; from diving with white sharks, to running the Inca trail to Machu Picchu, to sparring with the world shoot fighting champion (you cannot learn a martial art in a week). He likes to stand in his yard at night looking at the stars, but he does not like to spend any time during the day doing yard work.
Praise For Islands Apart…
"McAlpine celebrates and struggles with the gifts of silence and solitude.  The results are careful, poetic, and often funny observations."—Virtuoso Life