The Method of No-Method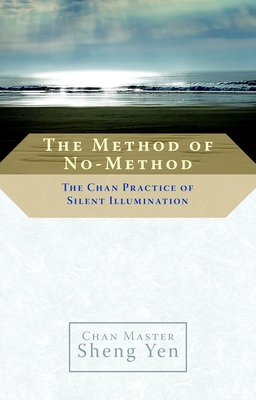 The Method of No-Method
The Chan Practice of Silent Illumination
Shambhala Publications, Paperback, 9781590305751, 152pp.
Publication Date: November 11, 2008
* Individual store prices may vary.
Shop Local
Enter your zip code below to find indies closest to you.
Description
Here is a spiritual practice uncomplicated enough for anyone to learn, yet rich enough to be worked with for a lifetime. The traditional Chan (Chinese Zen) practice called Silent Illumination begins with nothing more than putting aside all thoughts except the awareness of oneself just sitting. It's so simple in execution that it has sometimes been called the method of no-method yet simple as it is, the practice is subtle and profound, with the potential for ever subtler refinements as the practitioner moves toward mastery of it. When fully penetrated, this radical form of emptying one's busy mind-stream leads to perception of the vast ocean of pure awareness.
About the Author
Master Sheng Yen was appointed one of the chairs of the World Council of Religious Leaders in 2002. His Dharma Drum Buddhist Association has 21 centers throughout North America. He lives in Elmhurst, NY. Otto Chang, Ph.D. lives in Los Angeles, CA, and Singapore. Douglas Gildow lives in Boston, MA.
Praise For The Method of No-Method…
"Chan Master Sheng Yen has the truly rare ability to harmonize classical teaching with actual meditation practice. In The Method of No-Method he does this for the beautiful and profound Chinese Silent Illumination approach to meditation. It feels as if he is taking us, step by step and with great clarity, on our own personal retreat. Here is invaluable guidance for all students of meditative living."—Larry Rosenberg, author of Breath by Breath and Living in the Light of Death



"Master Sheng Yen is a true spiritual practitioner of deep and broad learning."—H. H. the Dalai Lama