The Happiness Trap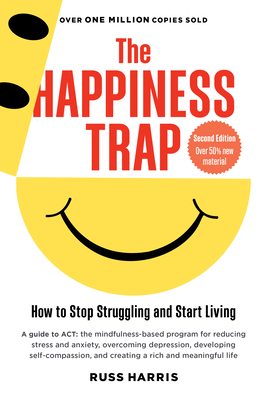 The Happiness Trap
How to Stop Struggling and Start Living
Trumpeter, Paperback, 9781590305843, 246pp.
Publication Date: June 3, 2008
* Individual store prices may vary.
Buy at Local Store
Enter your zip code below to purchase from an indie close to you.
or
Buy Here
Description
Are you, like milllions of Americans, caught in the happiness trap? Russ Harris explains that the way most of us go about trying to find happiness ends up making us miserable, driving the epidemics of stress, anxiety, and depression. This empowering book presents the insights and techniques of ACT (Acceptance and Commitment Therapy) a revolutionary new psychotherapy based on cutting-edge research in behavioral psychology. By clarifying your values and developing mindfulness (a technique for living fully in the present moment), ACT helps you escape the happiness trap and find true satisfaction in life.
The techniques presented in "The Happiness Trap" will help readers to:
Reduce stress and worry
Handle painful feelings and thoughts more effectively
Break self-defeating habits
Overcome insecurity and self-doubt
Create a rich, full, and meaningful life.
About the Author
Russ Harris, MD, is an internationally acclaimed acceptance and commitment therapy (ACT) trainer and author of the popular ACT-based self-help book, The Happiness Trap, now published in over fifteen languages and twenty countries. He is widely renowned for his ability to train therapists in ACT in a way that is clear, accessible, and fun.

Steven C. Hayes, PhD, is University of Nevada Foundation Professor of Psychology at the University of Nevada, Reno, and author of numerous books, including Acceptance and Commitment Therapy, Relational Frame Theory, and Get Out of Your Mind and Into Your Life, as well as hundred of articles and book chapters on related subjects.
Praise For The Happiness Trap…
"Carefully and creatively presents techniques that anyone can use to undermine struggle, avoidance, and loss of the moment. Harris systematically explores how we get into the 'happiness trap' and then shines a powerful beacon showing us another way forward."—Steven Hayes, PhD, author of Get Out of Your Mind and Into Your Life

"Eminently practical and readable. This book reveals that when calibrating one's life according to acceptance and valued action, happiness is a pleasant sideshow in the larger carnival of an engaged and purposeful existence."—Zindel Segal, PhD, author of The Mindful Way through Depression

"An exciting alternative to the usual approach of so many self-help books. Harris explains how we can work with ourselves as we are, rather than aggressively trying to alter ourselves. I'm impressed by the simple and effective methods of ACT."—David Richo, PhD, author of The Five Things We Cannot Change