Bring Me the Rhinoceros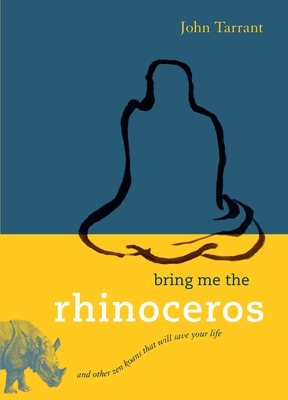 Bring Me the Rhinoceros
And Other Zen Koans That Will Save Your Life
Shambhala Publications, Paperback, 9781590306185, 194pp.
Publication Date: November 11, 2008
* Individual store prices may vary.
Buy at Local Store
Enter your zip code below to purchase from an indie close to you.
or
Buy Here
Description
" Bring Me the Rhinoceros" is an unusual guide to happiness and a can opener for your thinking. For fifteen hundred years, Zen koans have been passed down through generations of masters, usually in private encounters between teacher and student. This book deftly retells more than a dozen traditional koans, which are partly paradoxical questions dangerous to your beliefs and partly treasure boxes of ancient wisdom. Koans show that you don't have to impress people or change into an improved, more polished version of yourself. Instead you can find happiness by unbuilding, unmaking, throwing overboard, and generally subverting unhappiness. John Tarrant brings the heart of the koan tradition out into the open, reminding us that the old wisdom remains as vital as ever, a deep resource available to anyone in any place or time.
About the Author
John Tarrant is a psychotherapist and director of Zen training. A student of Buddhism who has trained in several major traditions, Tarrant is a lineage holder in Zen and teaches extensively in both the United States and Australia. In addition, he holds a Ph.D. in psychology and practices Jungian psychotherapy with a special interest in healing and the arts. He is a member of the faculty of the Program in Integrative Medicine at the University of Arizona at Tucson and teaches meditation to physicans. He lives in Santa Rosa, California.
Praise For Bring Me the Rhinoceros…
<p >"John Tarrant is one of the most interesting minds in American Buddhism. He weaves his deep immersion in Buddhist practice, Western psychology, and the arts into a unique yet completely authentic story of the Zen life and its mysteries."—Melvin McLoed, editor-in-chief, the Shambhala Sun <p >"You've never read a Zen book like this before. Having digested the traditional koan literature, which he has taught for many years, Zen teacher John Tarrant cheerfully goes beyond it. His koan re-tellings read like postmodern short fiction, complete with anti-heroic characters, visible scenery, and attitude. Rather than the usual Zen mystique that treats koans as arcane meditation objects, Tarrant discusses them as open secrets that actually matter for our lives here and now."—Zoketsu Norman Fischer, poet and Zen priest; author of Sailing Home: Using the Wisdom of Homer's Odyssey to Navigate Life's Perils and Pitfalls

<p >"Bring Me the Rhinoceros is one of the best books ever written about Zen."—Stephen Mitchell, translator of Gilgamesh: A New English Version <p >"Here's a book to crack the happiness code if ever there was one. Forget about self-improvement, five-point plans, and inspirational seminars that you can't remember a word of a week later. Tarrant's is the fix that fixes nothing because there is nothing to fix. Your life is a koan, a deep question whose answer you are already living—this is the true inspiration, and Tarrant delivers."—Roger Housden, author of the Ten Poems series <p >"Every life is full of koans, and yet you can't learn from a book how to understand them. You need someone to put you in the right frame of mind to see the puzzles and paradoxes of your experience. With intelligence, humor, and steady deep reflection, John Tarrant does this as no one has done it before. This book could take you to a different and important level of experience."—Thomas Moore, author of Care of the Soul <p >"John Tarrant's talent for telling these classic Zen tales transforms them magically into a song in which, as you read, the words disappear as the music continues to echo in your mind and make you happy. Mysteriously, like koans."—Sylvia Boorstein, author of Pay Attention, For Goodness' Sake