Living This Life Fully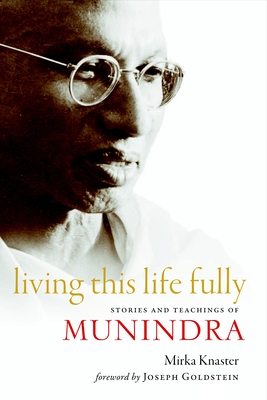 Living This Life Fully
Stories and Teachings of Munindra
Shambhala, Paperback, 9781590306741, 304pp.
Publication Date: October 12, 2010
* Individual store prices may vary.
Shop Local
Enter your zip code below to find indies closest to you.
Description
"Whatever you are doing should be done mindfully, dynamically, with totality and completeness. Then it becomes meditation. It is not thinking, but experiencing from moment to moment, living from moment to moment, without clinging, without condemning, without judging."—Munindra 

Anagarika Munindra (1915–2003) was a Bengali Buddhist master and scholar who became one of the most important Vipassana meditation teachers of the twentieth century. Unassuming, genuine, and always encouraging, Munindra embodied the Buddhist teachings, exemplifying mindfulness in everything he did.

Living This Life Fully is the first book about Munindra, and it features never-before-published excerpts of his teachings, stories and remembrances from Western students, a biography, and rare photographs.
About the Author


Joseph Goldstein is a cofounder of the Insight Meditation Society in Barre, Massachusetts, where he is one of the resident guiding teachers. He is the author of "The Experience of Insight" and "Insight Meditation" and has coauthored books with both Sharon Salzberg and Jack Kornfield. He has studied and practiced meditation since 1967 under the guidance of eminent teachers from India, Burma, and Tibet. He lectures and leads retreats around the world.
Praise For Living This Life Fully…
"Munindra's view of the Buddhist path, his scholarship, and his insight all helped me go beyond my fears and self-doubt to pursue meditation practice wholeheartedly."—Sharon Salzberg

"A kaleidoscopic view of one of the most influential figures in the spread of Buddhism in the West. Anagarika Munindra was one of a kind — wise, delightful, intriguing — and a fully human being."—Daniel Goleman 

"Munindra was one of the most important teachers for Westerners in the establishment of Vipassana and mindfulness meditation. He was a warm, openhearted, scholar of immense learning, a pragmatic and truly compassionate teacher."—Jack Kornfield

"Knaster skillfully weaves teachings and personal stories. This is a wonderful introduction to a teacher whose students are now household names: Sharon Salzberg, Daniel Goleman, Jack Kornfield.  This deeply felt, loving portrait of a modern Buddhist master will also inspire those on their own journeys."—Tricycle