Walden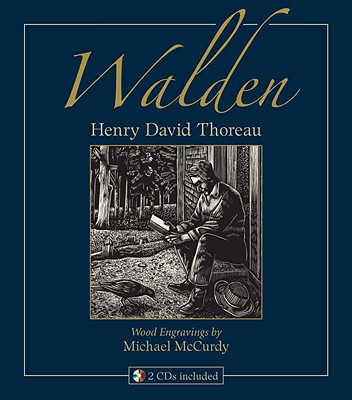 Walden
Or, Life in the Woods: Selections from the American Classic [With 2 CDs]
Shambhala Publications, Hardcover, 9781590307458, 194pp.
Publication Date: November 16, 2010
* Individual store prices may vary.
Buy at Local Store
Enter your zip code below to purchase from an indie close to you.
or
Buy Here
Description
In July 1845, Henry David Thoreau built a small cottage in the woods near Walden Pond in Concord, Massachusetts. During the two years and two months he spent there, he began to write Walden, a chronicle of his communion with nature that became one of the most influential and compelling books in American literature. As the favorite book of generations of readers, Walden has become part of the American landscape. Its message of living simply, in harmony with nature, is needed now more than ever. Here are select passages that provide a perfect introduction to Walden, along with woodblock engravings by Michael McCurdy and two audio CDs with samples of the text read aloud.
About the Author
Henry David Thoreau was an American author, poet, and philosopher, who is best known for his works Waldena treatise about living in concert with the natural worldand Civil Disobedience, in which he espoused the need to morally resist the actions of an unjust state. Thoreau s work heavily reflects the ideologies of the American transcendentalists, and he has long been considered a leading figure in the movement along with Ralph Waldo Emerson, Bronson Alcott, and, at first, Nathaniel Hawthorne (who changed his views later in life). In addition to his writing, which totaled more than twenty volumes, Thoreau was an active abolitionist, and lectured regularly against the Fugitive Slave Law. Thoreau died in 1862, and is buried along with Louisa May Alcott, Ellery Channing, and other notable Americans in Sleepy Hollow Cemetery in Concord, Massachusetts.

Alice Barnard is Chief Executive of the Peter Jones Foundation. Allan Biggar is Chairman of Allan Biggar and Company. Rachel Bridge is an author, journalist and public speaker. Simon Burton is founder of the Great British Entrepreneur Awards. Anne Cantelo is MD of Soho Square PR agency, Onyx, and a writer. Simon Dixon is CEO of Bank to the Future. Peter Ibbetson is Chairman of Small Businesses, RBS and NatWest. Nick James is founder of Fresh Business Thinking. Eugene Kaspersky is Chairman and CEO of Kaspersky Lab. Ewan MacLeod is Head of Bizcrowd. Christian Nellemann is CEO and founder of XLN and a serial entrepreneur. Susan Perry is a Senior Associate solicitor at Kerman & Co LLP Solicitors. Guy Rigby is Head of the Entrepreneurial Services Group at Smith & Williamson. Sarah Shields is General Manager and Executive Director of Consumer, Small and Medium Enterprises, Dell UK. Mike Southon is a business keynote speaker, Financial Mail columnist, entrepreneur and co-author of the best-selling Beermat Entrepreneur series. Peter Turner is a Regional Director at the FD Centre and founder of the Entrepreneurs Club, London. Hartmut Wagner is Managing Director of Cloud Solutions at Exact.

Michael McCurdy is one of America's finest wood engravers. He has illustrated nearly 200 books for trade publications and special fine-press editions. His prints and drawings are also shown in galleries throughout the country. McCurdy lives in Springfield, Mass.