A Concise Dictionary of Buddhism and Zen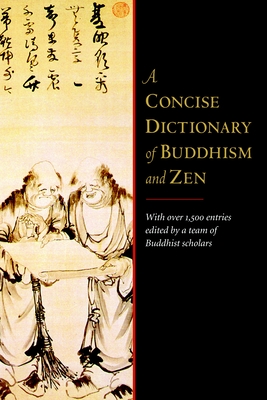 A Concise Dictionary of Buddhism and Zen
Shambhala Publications, Paperback, 9781590308080, 280pp.
Publication Date: May 11, 2010
* Individual store prices may vary.
Buy at Local Store
Enter your zip code below to purchase from an indie close to you.
or
Not Currently Available for Direct Purchase
Description
With over fifteen hundred entries and forty-six illustrations, A Concise Dictionary of Buddhism and Zen is the most complete compact reference work of its kind available in the English language. It is designed not only for students and meditators but also as a tool to help familiarize all readers with Buddhist terms and concepts—such as chakra, karma, koan, nirvana, and tantra—that are encountered with increasing regularity in the literature of a wide range of fields today. The lives and teachings of important philosophers and meditation masters, the variety of practices, the basic texts and scriptures, and the range of sects and schools of thought are among the subjects covered. Pronunciation tables, a comprehensive bibliography, and a Ch'an/Zen lineage chart are also provided.
About the Author
Ingrid Fischer-Schreiber, born in Vienna, Austria, is an accomplished scholar of Buddhism, Taoism, and Chinese culture. She is the author of The Shambhala Dictionary of Taoism, and was a contributor to A Concise Dictionary of Buddhism and Zen, The Encyclopedia of Eastern Philosophy and Religion, and The Dictionary of Oriental Wisdom. Franz-Karl Ehrhard is an author, scholar, and professor of Tibetology and Buddhism at Ludwig Maximilians University in Munich, Germany. He is one of the editors of A Concise Dictionary of Buddhism and Zen and The Encyclopedia of Eastern Philosophy and Religion, and is the author of Buddhism in Tibet and the Himalayas: Texts and Traditions. Michael S. Diener is an author, Japanologist, and scholar of Zen located in Tokyo. A Concise Dictionary of Buddhism and Zen was translated from the German by Michael H. Kohn, (also known as Sherab Chodzin Kohn) the co-editor of the best-selling anthology The Buddha and His Teachings. He has been teaching Buddhism and meditation for more than thirty years, and he has edited a number of the books of his teacher, the Tibetan meditation master Chogyam Trungpa Rinpoche. He has also published numerous translations, including an acclaimed version of Hermann Hesse's Siddhartha. He lives in Boulder, Colorado.
Praise For A Concise Dictionary of Buddhism and Zen…
"An A–Z dictionary of fifteen hundred terms commonly encountered, and more esoteric, compiled by a team of Buddhist scholars."—Library Journal

"This handy, comprehensive volume is an ideal reference tool and resource for all who are interested in the many facets as well as various schools of theory and practice of Buddhist traditions throughout Asia. The dictionary should be a close companion for both the serious student and those developing a new awareness of Buddhist studies."—Dr. Steven Heine, Director of Asian Studies, Florida International University, co-editor of Buddhism in the Modern World: Adaptations of an Ancient Tradition


"A useful—indeed essential—source of just the kind of authoritative information any knowledgeable person needs in the post-secular era of today. The material is judiciously selected and helpfully organized for ready access."—Professor Harvey Cox, Harvard Divinity School, author of The Secular City and Turning East


"This is a work no student of religion can dispense with. It is a highly professional, specialized, yet broadly informative book. It is an excellent instrument of knowledge for an essentially pluralistic age."—Ioan P. Couliano, author of Out of This World: Otherworldly Journeys from Gilgamesh to Albert Einstein.