The Bhagavad-Gita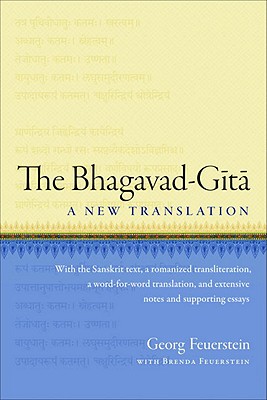 The Bhagavad-Gita
A New Translation
Shambhala Publications, Hardcover, 9781590308936, 509pp.
Publication Date: September 13, 2011
* Individual store prices may vary.
Not Currently Available for Direct Purchase
or
Shop Local
Enter your zip code below to purchase from an indie close to you.
Description
The seven hundred verses of the Bhagavad-Gita have, for more than two millennia, served as a guide to liberation through a life of knowledge, devotion, and action without attachment to results. The influence of this most renowned of all the Hindu scriptures has spread far beyond its religion of origin to inspire figures as diverse as Mohandas Gandhi, Henry David Thoreau, Ralph Waldo Emerson, Aldous Huxley, and C. G. Jung. This fresh translation stands out from all the others first of all for its careful faithfulness to the original language, but also for the extensive tools for understanding it provides, which include: detailed explanatory notes, the entire Sanskrit text on facing pages—both in the original Devanagari alphabet as well as in a romanized version that allows the reader to approximate the sounds (a pronunciation guide is provided)—a word-for-word translation for comparison, an exhaustive glossary, and a wealth of essays on the Gita's background, symbolism and influence. This Gita is an excellent resource for serious students, but it's also the perfect version for first-time readers who want to approach the text with understanding.
About the Author
Georg Feuerstein is an internationally recognized yoga scholar and has studied yoga since the age of fourteen. He is the author of The Essence of Yoga, Lucid Waking, The Philosophy of Classical Yoga, Sacred Sexuality, and The Yoga-Sutra of Patanjali.

Brenda Feuerstein, Georg's wife, studied Yoga, meditation, Buddhism and Sanskrit, and now serves as the educational and spiritual director of Traditional Yoga Studies, founded by Georg. She is a tutor and mentor for Yoga courses, and also conducts Yoga classes, workshops, retreats and trainings worldwide. She coauthored Green Yoga and Green Dharma with Georg Feuerstein and contributed to his book entitled The Bhagavad-Gita: A New Translation. She is the author of The Yoga-Sutra from a Woman's Perspective.
Praise For The Bhagavad-Gita…
"Dr. Feuerstein's new rendering is perhaps the most complete version of the more than one hundred English translations of the Gita to come our way in the last two-and-a-quarter centuries. This is a work for both scholars and serious laypersons, destined, I believe, to become the standard text for Yoga training programs in the English-speaking world."—Richard Rosen, author of The Yoga of Breath and Pranayama beyond the Fundamentals

"A Bhagavad-Gita like no other! Never have its language and culture been so vividly etched, not only by the unrivaled precision of Feuerstein's renderings, but also in a trove of companion materials unprecedented for their breadth and depth. There's something here for everyone, from seeker to scholar to seer."—Chip Hartranft, translator of The Yoga-Sutra of Patañjali


"Its timeless teachings on karma yoga and bhakti yoga make it a foundational text for modern yogis. Its compelling narrative, filled with iconic characters and colorful lessons about the spiritual journey, make it a pleasure to read. What makes the Feuersteins' translation unique? It is packed with scholarly essays that help students understand the Gita's historical and cultural context and its historical worldview before they read the text. Rich with footnotes and containing a helpful glossary, this book will serve serious yoga students and ambitious beginners alike."—Yoga Journal

"It stands out both for its faithfulness to the original language and for its extensive tools for understanding the text."—OM Magazine (UK)