The Confidence Gap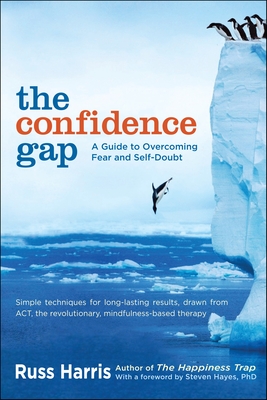 The Confidence Gap
A Guide to Overcoming Fear and Self-Doubt
Trumpeter, Paperback, 9781590309230, 257pp.
Publication Date: September 13, 2011
* Individual store prices may vary.
Buy at Local Store
Enter your zip code below to purchase from an indie close to you.
or
Buy Here
Description
Too many of us miss out on opportunities in life because we lack self-confidence. Whether it's public speaking, taking on a leadership role, or asking someone for a date, there are situations in which we just don't feel equipped to handle the challenges we face.

Russ Harris offers a surprising solution to low self-confidence, shyness, and insecurity: Rather than trying to "get over" our fears, he says, the secret is to form a new and wiser relationship with them. Paradoxically, it's only when we stop struggling against our fearfulness that we begin to find lasting freedom from it.

Drawing on the techniques of Acceptance and Commitment Therapy (ACT), a cutting-edge form of cognitive-behavioral therapy, The Confidence Gap explains how to: 

   • Free yourself from common misconceptions about what confidence is and how to build it
   • Transform your relationship with fear and anxiety
   • Clarify your core values and use them as your inspiration and motivation
   • Use mindfulness to effectively handle negative thoughts and feelings.
About the Author
Russ Harris, MD, is an internationally acclaimed acceptance and commitment therapy (ACT) trainer and author of the popular ACT-based self-help book, The Happiness Trap, now published in over fifteen languages and twenty countries. He is widely renowned for his ability to train therapists in ACT in a way that is clear, accessible, and fun.

Steven C. Hayes, PhD, is University of Nevada Foundation Professor of Psychology at the University of Nevada, Reno, and author of numerous books, including Acceptance and Commitment Therapy, Relational Frame Theory, and Get Out of Your Mind and Into Your Life, as well as hundred of articles and book chapters on related subjects.
Praise For The Confidence Gap…
"This book could save you years of psychological struggle, yank you out of negative emotional patterns, and help propel you to a much happier, more productive life."—Martha Beck, author of Finding Your Own North Star

"An exciting alternative to the usual approach of so many self-help books. Harris explains how we can work with ourselves as we are, rather than aggressively trying to alter ourselves. I'm impressed by the simple and effective methods of ACT."—David Richo, PhD, author of How to Be an Adult in Relationships

"One of the most hopeful (and helpful) messages we can take away from this book is this: we can learn to do the things that matter, even when our minds say it's not possible."—Spirituality & Health