Rise of the Evening Star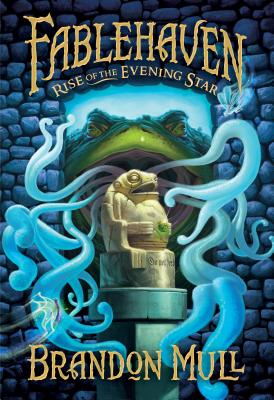 Rise of the Evening Star
Shadow Mountain, Hardcover, 9781590387429, 441pp.
Publication Date: June 1, 2007
* Individual store prices may vary.
Buy at Local Store
Enter your zip code below to purchase from an indie close to you.
or
Not Currently Available for Direct Purchase
Description
The mostdangerous evil hasinfinite subtlety and patience.Beware: It is rising.

At the end of the school year, Kendraand her brother, Seth, find themselvesracing back to Fablehaven, a refuge formythical and magical creatures. GrandpaSorenson, the caretaker, invites threespecialists a potion master, a magicalrelicscollector, and a mystical creaturetrapper to help protect the property fromthe Society of the Evening Star, an ancientorganization determined to infiltrate thepreserve and steal a hidden artifact of greatpower. Time is running out. The EveningStar is storming the gates. If the artifactfalls into the wrong hands, it could meanthe downfall of other preserves and possiblythe world. Will Kendra learn to useher fairy gifts in time? Will Seth stay out oftrouble? Can they overcome paralyzingfear? Find out in book two of this bestsellingchildren's fantasy series.
About the Author
Brandon Mull has worked as acomedian, a filing clerk, a patio installer, a movie promoter, a copywriter, andbriefly as a chicken stacker. For a coupleof years, he lived in the Atacama Desertof Northern Chile, where he learnedSpanish and juggling. He currently livesin Utah in a happy little valley near themouth of a canyon with his four childrenand dog named Buffy. Brandon is the #1New York Times best-selling author of theFablehaven, Beyonders, and Five Kingdoms series. Visit Brandon at BrandonMull.com."