Unformed Landscape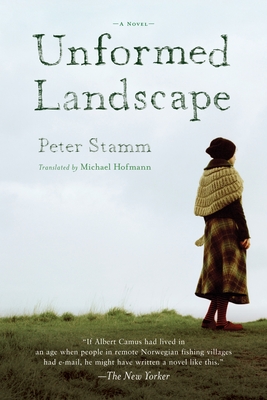 Unformed Landscape
Other Press (NY), Hardcover, 9781590511404, 168pp.
Publication Date: April 17, 2005
* Individual store prices may vary.
Buy at Local Store
Enter your zip code below to purchase from an indie close to you.
or
Not Currently Available for Direct Purchase
Description
"Unformed Landscape" begins in a small village on a fjord in the Finnmark, on the northeastern coast of Norway, where the borders between Norway, Sweden, Finland, and Russia lie covered in snow and darkness, where the real borders are between day and night, summer and winter, and between people. Here, a sensitive young woman like Kathrine finds few outlets for her desires. Half Norwegian, half Sami (an indigenous people), Kathrine works for the customs office inspecting the fishing boats arriving regularly in the harbor. She is in her late 20s, has a son from an early marriage, and has drifted into a second loveless marriage to a man whose cold and dominating conventionality forms a bold stroke through the unformed landscape of her life. After she makes a discovery about her husband that deeply wounds her, Kathrine cuts loose from her moorings and her confusion and sets off in search of herself.
Her journey begins aboard a ship headed south, taking her below the Arctic Circle for the first time in her life. Kathrine makes her way to France and has the bittersweet experience of a love affair that flares and dies quickly, her starved senses rewarded by the shimmering beauty of Paris. Through a series of poignant encounters, Kathrine is led to the richer life she was meant to have and is brave enough to claim.
Using simple words strung together in a melodic alphabet, Peter Stamm introduces us, through a series of intimate sketches, to the heart of an unforgettable woman. Her story speaks eloquently about solitude, the fragility of love, lost illusions, and self-discovery.
About the Author
Peter Stamm lebt und arbeitet als Autor und Komponist in Brelingen bei Hannover
For his translations, acclaimed poet Michael Hofmann has won the Independent Foreign Fiction Prize, the Dublin International IMPAC Award, the PEN/Book-of-the-Month Club Prize, the Helen and Kurt Wolff Translator s Prize, the Oxford-Weidenfeld Translation Prize, and The Schlegel-Tieck Prize (four times). He is the highly acclaimed translator of, among others, Kafka, Brecht, and Joseph Roth.
Michael Hoffman is a filmmaker known for creating complex and layered stories with great attention to detail and character. A skilled writer and director, he has worked on both feature films and documentaries, including A Midsummer Night's Dream, The Emperor's Club, Game of Six, and the ESPN documentary Out of the Blue. The Last Station is his most recent film.
Jay Parini is a professor of English & Creative Writing at Middlebury College in Vermont. A writer and academic, he is best known for his novels and poetry. He is the author of the novel The Last Station, which is now a major motion picture from Sony Classics.
Praise For Unformed Landscape…
The New Republic Online
Chloë Schama
As the title of his novel Unformed Landscape (Other Press, 2005) and his collection of short stories Strange Gardens and Other Stories (Other Press, 2006) imply, Swiss author Peter Stamm's characters are deeply affected by their surroundings. The Norwegian fishing village where Katharine, the central character in Unformed Landscapes, resides is a gray place, enlivened only by her increasingly complicated affairs and fantasies of life elsewhere. Like the landscapes of his novels, Stamm's prose is spare and graceful.

"Unformed Landscape is a masterpiece of minimalism but with deep undercurrents..."