Hurry Down Sunshine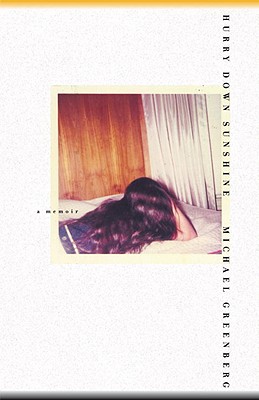 Hurry Down Sunshine
Other Press (NY), Hardcover, 9781590511916, 234pp.
Publication Date: September 9, 2008
* Individual store prices may vary.
Buy at Local Store
Enter your zip code below to purchase from an indie close to you.
or
Not Currently Available for Direct Purchase
Description
"HURRY DOWN SUNSHINE "TELLS THE STORY OF THE extraordinary summer when, at the age of fifteen, Michael Greenberg's daughter was struck mad. It begins with Sally's visionary crack-up on the streets of Greenwich Village, and continues, among other places, in the out-of-time world of a Manhattan psychiatric ward during the city's most sweltering months. "I feel like I'm traveling and traveling with nowhere to go back to," Sally says in a burst of lucidity while hurtling away toward some place her father could not dream of or imagine. "Hurry Down Sunshine "is the chronicle of that journey, and its effect on Sally and those closest to her-her brother and grandmother, her mother and stepmother, and, not least of all, the author himself. Among Greenberg's unforgettable gallery of characters are an unconventional psychiatrist, an Orthodox Jewish patient, a manic Classics professor, a movie producer, and a landlord with literary dreams. Unsentimental, nuanced, and deeply humane, "Hurry Down Sunshine "holds the reader in a mesmerizing state of suspension between the mundane and the transcendent.
"The psychotic break of his fifteen-year-old daughter is the grit around which Michael Greenberg forms the pearl that is "Hurry Down Sunshine." It is a brilliant, taut, entirely original study of a suffering child and a family and marriage under siege. I know of no other book about madness whose claim to scientific knowledge is so modest and whose artistic achievement is so great." - Janet Malcolm, author of "The Silent Woman: Sylvia Plath & Ted Hughes "and "The Journalist and the Murderer"
"One of the most gripping and disturbingly honest books I have ever read. The courage Michael Greenberg shows in narrating the story of his adolescent daughter's descent into psychosis is matched by his acute understanding of how alone each of us, sane or manic, is in our processing of reality and our attempts to get others to appreciate what seems important to us. This is a remarkable memoir." - Phillip Lopate, author of "Two Marriages" and "Waterfront: A Journey Around Manhattan

About the Author
Michael I. Greenberg, MD, MPH, is a Professor of Emergency Medicine and Professor of Public Health at Drexel University College of Medicine in Philadelphia, Pennsylvania. He is also a Clinical Professor of Emergency Medicine at Temple University School of Medicine in Philadelphia, Pennsylvania.
Praise For Hurry Down Sunshine…
Suzanne Niemoth, Flavorpill

"Michael Greenberg's excellently written memoir … echoes the genre's most poignant predecessors. … Greenberg's wry, lighting-bolt prose and unsentimental portrayal of his family's ordeal make for a brilliant, engrossing sketch of mental illness and its terrifying, destructive fallout."


Oliver Sacks, New York Review of Books

"In its detail, depth, richness, and sheer intelligence, Hurry Down Sunshine will be recognized as a classic of its kind ….Lucid, realistic, compassionate, illuminating, Hurry Down Sunshine may provide a sort of guide for those who have to negotiate the dark regions of the soul—a guide, too, for their families and friends, for all those who want to understand what their loved ones are going through."


Time, Lev Grossman

"[an]… extraordinary memoir…"


Library Journal

"The prose is so fluid that it transports us into the author's head, making his shock, fear, and love our own."


St. Louis Post-Dispatch

"[Hurry Down Sunshine is]… almost impossible to put down."


Shelf Awareness

"…deeply affecting and poetically rendered…"