Homespun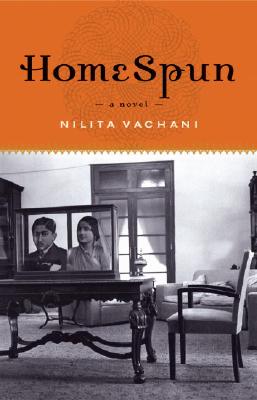 Homespun
Other Press, Hardcover, 9781590512852, 376pp.
Publication Date: May 13, 2008
* Individual store prices may vary.
Buy at Local Store
Enter your zip code below to purchase from an indie close to you.
or
Not Currently Available for Direct Purchase
Description
"Superb tale-spinning—a beam of light in contemporary Indian fiction."— Mira Nair, director of The Namesake

"When Nanaji was shown Naneeji's photograph, he looked at it for a long time. He had said 'no' so often that it was surprising when he looked up and said 'yes' just like that. They were married a month later. Nanaji was 17, Naneeji, 15."

But the photograph had lied. A marriage between the nationalistic Nanaji, deeply committed to Mahatma Gandhi, and Naneeji, equally committed to her wardrobe, could only spell trouble. Spanning three generations, from India's struggle for independence against British rule, up to the present-day, HomeSpun traces the lasting imprints of war and the search for peace at levels that are both historical and familial. Setting in motion an irreversible chain of events, a cast of unforgettable characters criss-cross and affect one another in unlikely ways: a Bombay movie producer with a love for pakoras; a fighter pilot who never should have been one; a war correspondent who stumbles upon a disquieting truth; and at the heart of the story, a young girl on a fractured quest for family. Painted on a wide canvas with a deft and intimate hand, HomeSpun's reach is alluringly diverse: it is at once historical saga, military intrigue, and a moving, coming-of-age portrayal.

"Intricately plotted, beautifully written, HomeSpun is the story of an Indian family, and of modern India itself. Cinematic in scope and imagery, and with a dark secret at its core that keeps you racing through the pages, it is the brilliant debut of a multiply gifted writer."—Suketu Mehta, author of Maximum City

"HomeSpun is a warm, sweeping novel full of history, laughter and tears, and generations of characters that dance off the page. Nilita Vachani is a storyteller of the first order."—Joe Sacco, author of Safe Area Gorazde and Palestine
About the Author
Nilita Vachani

Nilita Vachani is a filmmaker and writer from New Delhi, India. She now lives in New York City with her husband and two children. She has produced, directed, and edited the award-winning documentary films Eyes of Stone, Diamonds in a Vegetable Market, and When Mother Comes Home for Christmas. HomeSpun is her first novel.
Praise For Homespun…
Mira Nair, director of The Namesake

"An elegant, serpentine story of modern India, HomeSpun is mesmerizing and original. Nilita Vachani has such a sure grasp of this world and her characters. Her words weave a delicate, powerful tapestry that possesses you long after the story is over. Superb tale-spinning–a beam of light in contemporary Indian fiction."


Suketu Mehta, author of Maximum City

"Intricately plotted, beautifully written, HomeSpun is the story of an Indian family, and of modern India itself. Cinematic in scope and imagery, and with a dark secret at its core that keeps you racing through the pages, it is the brilliant debut of a multiply gifted writer."


Joe Sacco, author of Safe Area Goražde and Palestine

"HomeSpun is a warm, sweeping novel full of history, laughter and tears, and generations of characters that dance off the page. Nilita Vachani is a storyteller of the first order."