Madame Prosecutor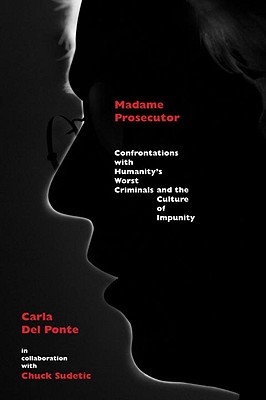 Madame Prosecutor
Confrontations with Humanity's Worst Criminals and the Culture of Impunity
Other Press (NY), Hardcover, 9781590513026, 434pp.
Publication Date: January 20, 2009
* Individual store prices may vary.
Buy at Local Store
Enter your zip code below to purchase from an indie close to you.
or
Not Currently Available for Direct Purchase
Description
Carla Del Ponte won international recognition as Switzerland's attorney general when she pursued cases against the Sicilian mafia. In 1999, she answered the United Nations' call to become the chief prosecutor of the International Criminal Tribunal for the former Yugoslavia and for Rwanda. In her new role, Del Ponte confronted genocide and crimes against humanity head-on, struggling to bring to justice the highest-ranking individuals responsible for massive acts of violence in Rwanda, Bosnia and Herzegovina, Croatia, and Kosovo. These tribunals have been unprecedented. They operate along the edge of the divide between national sovereignty and international responsibility, in the gray zone between the judicial and the political, a largely unexplored realm for prosecutors and judges. It is a realm whose native inhabitants-political leaders and diplomats, soldiers and spies-assume that they can commit the big crime without being held culpable. It is a realm crisscrossed by what Del Ponte calls the muro di gomma -"the wall of rubber"- a metaphor referring to the tactics government officials use to hide their unwillingness to confront the culture of impunity that has allowed persons responsible for acts of unspeakable, wholesale violence to escape accountability. Madame Prosecutor is Del Ponte's courageous and startling memoir of her eight years spent striving to serve justice.
About the Author
Carla Del PonteCarla Del Ponte was chief prosecutor of the United Nations International Criminal Tribunal for the former Yugoslavia from 1999 to 2007 and chief prosecutor of the United Nations International Criminal Tribunal for Rwanda from 1999 to 2003. Her work contributed to the indictment, arrest, or prosecution of dozens of persons accused of genocide and other war crimes, including Slobodan Milosevic, Theoneste Bagosora, and two of the world's most-wanted men, Radovan Karadzic and General Ratko Mladic. Del Ponte has received numerous awards and honors. She is currently Switzerland's ambassador to Argentina. Chuck SudeticCo-author Chuck Sudetic reported for the New York Times from 1990 to 1995 on the breakup of Yugoslavia and the transition from communism in other Balkan countries. He is the author of Blood and Vengeance (1998), and his articles have appeared in The Economist, The Atlantic Monthly, Rolling Stone, and Mother Jones, among others. From 2001 to 2005, he worked as an analyst for the Yugoslavia Tribunal. He is now a senior writer for the Open Society Institute (Soros Foundation) and is completing a book about the Adriatic town of Dubrovnik. He resides in Paris.
Praise For Madame Prosecutor…
New York Times Book Review

"Cynics argue that because the United Nations was unable to stop the carnage in the former Yugoslavia and Rwanda, it set up war crimes tribunals instead, as a kind of humanitarian consolation prize.
What the diplomats did not expect was Carla Del Ponte's determination to bring the perpetrators to justice and to end the culture of impunity. As the attorney general of Switzerland, she had fought against the muro di gomma, the wall of rubber, that deflected her attempts to stop Mafia money-laundering. "Madame Prosecutor" is her account of battling the muro di gomma across the Balkans, Rwanda and Western capitals.
It is a relentless, sometimes (understandably) angry book, and an important insider's account of the quest for international justice."


Newsweek

"Carla Del Ponte is not the quiet type. The tenacious European prosecutor took on some of the most powerful members of the Sicilian mafia, hammering away at their now infamous "pizza connection" with Swiss bankers. As head of the international tribunal for the former Yugoslavia, she hauled Slobodan Milosevic and dozens of others into court for war crimes, and investigated acts of genocide in Rwanda. Her enemies branded her "the whore" and plotted to blow her up with bombs, prompting the Swiss government to assign her around-the-clock bodyguards, who protect her to this day. Her investigative prowess impressed former FBI director Louis Freeh—and infuriated former CIA director George Tenet, whom she badgered for assistance in tracking Milosevic's henchmen. And in her new memoir, "Madame Prosecutor," the English-language edition of which was released this month, she courts fresh controversy by charging that officials at the United Nations and NATO failed to properly investigate allegations of Albanian atrocities against Serbs in Kosovo in 1999."


ForeWord Magazine

"Madame Prosecutor is a lengthy discussion of the heinousness of crimes against humanity and a poignant plea for a better international crimi-nal justice system. Using the imperfect system now in place, Del Ponte's efforts to bring war criminals to trial are nothing short of fascinating and heroic. Her work contributed to the indictment, arrest, or prosecution of Slobodan Milosevic and dozens more. Sudetic's experience as a New York Times reporter and author as well as his work as an analyst for the Yugoslavia tribunal and his current position as senior writer for the Open So-ciety Institute, also inform the politics and scope of Madame Prosecutor."


Publishers Weekly

"Del Ponte, protagonist of this...hard-nosed memoir, was chief prosecutor for the U.N. International Criminal Tribunal for Yugoslavia and Rwanda, the biggest war crimes prosecution since WWII… Her implacable quest for justice is admirable…"


Kirkus Reviews

"The chief prosecutor of the International Criminal Tribunal for the former Yugoslavia and for Rwanda recounts eight years of frustration seeking justice for the victims of genocide and crimes against humanity."


The Economist

"Crucial historical depth…is what separates [Madame Prosecutor] from the dozens of others written by the diplomats and soldiers who have tangled with the Balkans."


The New York Review of Books

"Carla del Ponte's recollection and defense of her controversial tenure as the chief prosecutor of the United Nations International Criminal Tribunal…mercilessly searches for historical truth...What drove [Del Ponte] with a kind of manic fury was a desire to see justice done."


Elle Magazine

Onetime Swiss Attorney General Carla Del Ponte was chief prosecutor for the international tribunals that went after the genocidal masterminds responsible for mass violence in Rwanda and the former Yugoslavia. Madame Prosecutor: Confrontations With Humanity's Worst Criminals and the Culture of Impunity (Other Press), coauthored with reporter-writer Chuck Sudetic, is her unforgettably brave story.


California Lawyer

"Del Ponte offers a highly personal story of how she took on the awesome responsibility of prosecuting war crimes."