Lost and Found in Russia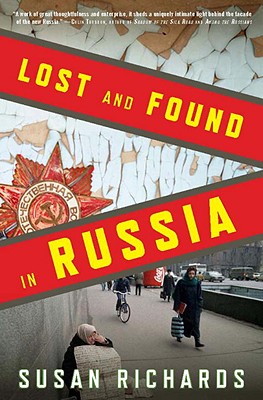 Lost and Found in Russia
Lives in the Post-Soviet Landscape
Other Press (NY), Paperback, 9781590513484, 344pp.
Publication Date: December 7, 2010
* Individual store prices may vary.
Buy at Local Store
Enter your zip code below to purchase from an indie close to you.
or
Buy Here
Description
After the fall of communism, Russia was in a state of shock. The sudden and dramatic change left many people adrift and uncertain—but also full of a tentative but tenacious hope. Returning again and again to the provincial hinterlands of this rapidly evolving country from 1992 to 2008, Susan Richards struck up some extraordinary friendships with people in the middle of this historical drama. Anna, a questing journalist, struggles to express her passionate spirituality within the rules of the new society. Natasha, a restless spirit, has relocated from Siberia in a bid to escape the demands of her upper-class family and her own mysterious demons. Tatiana and Misha, whose business empire has blossomed from the ashes of the Soviet Union, seem, despite their luxury, uneasy in this new world. Richards watches them grow and change, their fortunes rise and fall, their hopes soar and crash.
   Through their stories and her own experiences, Susan Richards demonstrates how in Russia, the past and the present cannot be separated. She meets scientists convinced of the existence of UFOs and mind-control warfare. She visits a cult based on working the land and a tiny civilization founded on the practices of traditional Russian Orthodoxy. Gangsters, dreamers, artists, healers, all are wondering in their own ways, "Who are we now if we're not communist? What does it mean to be Russian?" This remarkable history of contemporary Russia holds a mirror up to a forgotten people. Lost and Found in Russia is a magical and unforgettable portrait of a society in transition.
About the Author
Susan Richards is the author of "Epics of Everyday Life, "which won the PEN/Time

Life Award for Non-Fiction and the "Yorkshire Post "Best First Work Award in 1990. She edits open Democracy Russia, part of open-Democracy, the Web site about global affairs, which she cofounded. After earning a doctorate on Alexander Solzhenitsyn from St. Antony's College, Oxford University, she initiated the program of talks, conferences, and debates at London's Institute of Contemporary Arts and worked as a film producer. With her husband, the television producer Roger Graef, she started Bookaid, a charity that sent a million English-language books to public libraries throughout the Soviet Union.
Praise For Lost and Found in Russia…
"It's travel as jaw-dropping performance." —Ben Dickinson, Elle

"Part travelogue, part contemporary history...the real gems Richards uncovers are about the parts of the Russian society and mindset that remained hidden from Western eyes for nearly a century." —Publishers Weekly

"Richards' genial snapshots (of 'Old Believers' in southern Siberia, and alien sightings at a secret uranium mine) hint at the multifaceted nature of Russian life but her cumulative impressions suggest a country in turmoil, with old and new traditions in headlong collision." —Financial Times

"For a rich portrait of the new Russia, grab this off the shelf and skip all those biographies of Vladimir Putin." —Thomas de Waal, Sunday Times (UK)

"Lost and Found in Russia is beautifully written, with arresting images on almost every page. I loved the men lying stiffly on their wooden bunks in the train like toppled statues. It is a travelogue as rich and compelling as a novel and, quite rightly, without a happy ending." —Lesley Chamberlain, The Independent (UK)

"There is a human optimism that shines out of these hard lives and this loving account of them - an optimism that defies the rational." —Angus McQueen, The Guardian, Book of the Week

"A patiently crafted glimpse "through a crack in the wardrobe" of the devastation wrought on Russian society during the turbulent post-Communist '90s." —Kirkus Reviews

"Brave, moving and extraordinary. Travelling far beyond the usual travellers' routes, and often at considerable danger and in great discomfort, Richards has uncovered a world that few of us can begin to imagine." —Miranda Seymour, The Tablet's Books of the Year 2009

 "Once again, Susan Richards gives a rare and wonderful evocation of ordinary lives in Russia. People fall in love, fall ill, make money, lose money; some are nobly defeated, some shamelessly successful. Each one tells us more about the lethal tides of recent Russian history than years of newspaper reports." —Philip Marsden, author of The Spirit Wrestlers and The Bronski House