Gene Worship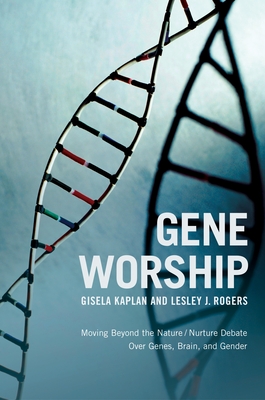 Gene Worship
Moving Beyond the Nature/ Nurture Debate Over Genes, Brain and Gender
Other Press (NY), Paperback, 9781590514436, 306pp.
Publication Date: August 24, 2010
* Individual store prices may vary.
Buy Now
or
Shop Local
Enter your zip code below to purchase from an indie close to you.
Description
"A wonderful antidote to the gene hysteria that is now so dominant! . . . What is most exciting about this book is the authors' ability to move seamlessly from research on how the brain works, to sociology, history, and philosophy. And that, I believe, is exactly how we need to understand gender--neither nature nor nurture, but a complex interplay." - Dr. Lynda Birke, author of Feminism and the Biological Body

This work moves beyond the old nature/nurture debate concerning what makes us who we are to present a new understanding of gender and sexuality. Since the mapping of the human genome there has been widespread coverage of scientific discoveries in the offing, and of the host of human problems to be solved through gene therapy, from physical defects to mental disease and even so-called 'undesirable' behavior.

As biologists with expertise in neuroscience, ethology, psychology, sociology and human ethos, Kaplan and Rogers are uniquely situated to evaluate the claims of their colleagues concerning the knowledge to be gained through the study of our biological make-up. They caution against the seductive belief that, once we understand our biological constitution, it is but a short step to complete mastery of human nature. Furthermore, they show that this belief is yet another example of how science can be subverted to defend the claims of the ruling ideology.
About the Author
Gisela Kaplan is Foundation Professor and Head of the School of Social Sciences at the Queensland University of Technology in Brisbane. She grew up in West Berlin but gained her Ph.D. at Monash University, Melborne. She has lectured widely in Australia, Europe and the USA where she recently held a Visiting Professorship of Sociology at Memphis State University. She is the co-editor of "Hannah Arendt: Thinking, Judging, Freedom".

Kaplan Test Prep and Admissions has helped more than 3 million students achieve their educational and career goals. With 185 centers and over 1,200 classroom locations throughout the U.S. and abroad, Kaplan provides a full range of services, including test-prep courses, admissions consulting, programs for international students, professional licensing preparation, and more.