When the Night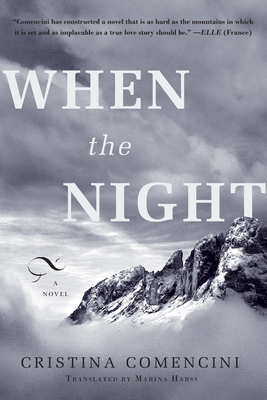 When the Night
Other Press (NY), Paperback, 9781590515112, 244pp.
Publication Date: April 24, 2012
* Individual store prices may vary.
Buy at Local Store
Enter your zip code below to purchase from an indie close to you.
or
Not Currently Available for Direct Purchase
Description
Manfred, a surly mountaineer recently abandoned by his wife, rents the upstairs apartment in his home in the Dolomites to Marina, a woman from the city, and her difficult young son. Deeply suspicious by nature, especially of women, Manfred spies obsessively on Marina, in whose shortcomings as a mother he finds resonances of his own mother's desertion of him in childhood. When Marina's frustration over her son's refusal to eat or sleep leads her to harm the child, Manfred steps in, and the silent power struggle between them escalates. Yet Manfred's attraction to Marina is as powerful as his distrust. In this alternately shocking and moving novel, Cristina Comencini has created a complex, psychologically profound portrait of two damaged, vulnerable people and the painful bond that develops between them as they are drawn into each other's worlds.
About the Author
Cristina Comencini est nee en 1956 a Rome ou elle frequente le lycee francais. Apres des etudes de sciences economiques, elle rejoint son pere, le realisateur Luigi Comencini, en tant que coscenariste avant de tourner ses propres films. Grace au soutien de l ecrivain Natalia Ginzburg, elle publie en 1991 son premier roman, "Les Pages arrachees" (Verdier, 1994). Suivront "Passion de famille" (Verdier, 1997), "Les S urs" (Verdier, 1999), "Matriochka" (Verdier, 2002) et "La Bete dans le c ur" (Denoel, 2007), uvre qu elle porte elle-meme a l ecran et qui sera nomme dans la categorie du meilleur film etranger aux Oscars 2006.

Marina Harss' translations include For Solo Violin (Per Vionlino Solo), a war memoir by Aldo Zargani, and stories in The Forbidden Stories of Marta Veneranda, by Sonia Rivera-Valdes. Her translations have also appeared in Bomb, Brooklyn Rail, and Autadafe: She is a researcher at The New Yorker, and lives in New York City.
Praise For When the Night…
"Cristina Comencini recounts the shocks to the heart, the pain, and the unhappiness of lives wounded by destiny." —La Stampa
 
"Comencini has constructed a novel that is as hard as the mountains in which it is set and as implacable as a true love story should be." —Elle (France)
 
"Comencini writes the story of generations in an Italy in flux, of family relations, of solitude and love." —La Reppublica

"Comencini is adept at creating an extraordinary portrait of psychologically scarred characters." –Kirkus (starred review)

"Comencini's writing is as clean, spare, and intimidating as the novel's alpine setting. Her terse conversations and taciturn characters reveal weakness and desperation while trying to show strength and independence. Their hearts are closed, because they never found the right person who could open them. Until they meet each other." –The Coffin Factory

"Comencini knows how to tell a gripping story, slowly churning the primary tension with measured restraint...When the Night is an engaging read, best for those looking for something with the hint of a psychological thriller or, perhaps, seeking to imagine the crisp air of Italy's Dolomites." –World Literature Today

"When the Night is a deep psychological tale that looks into the souls of two mentally wounded warriors who fear relationships because they have failed at them." –The Midwest Book Review

"In spare, exact prose Cristina Comencini lets this story unfold against an Alpine setting that is so vivid it, too, becomes a character in this strangely compelling novel. The attraction between these two people…begins to have an edge as sharp as the winter, Alpine air, and their mental observations about each other glitter with as many facets as the Alpine ice." –Arts Fuse

"Comencini deftly handles rapid shifts in point of view that illuminate the misunderstandings, missed opportunities and unspoken desires that dog these two lonely souls. When the Night is a haunting portrait of wives, husbands, mothers — and the lingering effects even small decisions and actions can have throughout a life." –Tulsa Book Review

"Comencini builds the tension between Manfred and Marina with a master's precision: the yearning, the terror, the desperation, and the unbridled passion of two lonely, disparate souls. The meeting, finally, of these improbable lovers is so torturous, so exquisitely painful, that like the lovers, the reader has cast aside all pretensions of restraint. This is a blinding, brilliant exercise in the absurd perfection and healing power of human relationships." -Curled Up with a Good Book