The Barcelona Brothers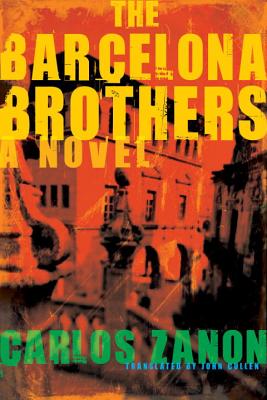 The Barcelona Brothers
Other Press (NY), Paperback, 9781590515181, 304pp.
Publication Date: August 28, 2012
* Individual store prices may vary.
Buy at Local Store
Enter your zip code below to purchase from an indie close to you.
or
Not Currently Available for Direct Purchase
Description
A gritty noir set in Barcelona's savage underbelly.
Epi Dalmau is a desperate man. Early one morning, he carries a duffle bag into a dingy bar in a rough neighborhood of Barcelona. Four other people are in the bar: his brother Alex, his good friend Tanveer, the bartender, and a Pakistani man who wandered in to use the restroom. Epi grabs a hammer out of his duffle bag and attacks Tanveer. After a brief struggle and a couple of blows, Tanveer lies dead on the floor and Epi flees the bar.
Alex and the bartender plan to find and protect Epi, while blaming the murder on the unfortunate Pakistani man, who was simply in the wrong place at the wrong time. Meanwhile, Epi is hunting for Tiffany, the woman of his dreams and the reason behind the murder. What he'll do when he finds her, and what drove him to brutal violence are the subjects of Carlos Zanon's gritty, unflinching novel, set in a city tourists never see.
"The Barcelona Brothers" is a hard look at what people are capable of when they have no other options, and a portrait of a modern, multicultural Barcelona.
About the Author
Ne a Barcelone en 1966, Carlos Zanon est poete, romancier, scenariste, editorialiste et critique litteraire. Il a publie ses premiers poemes a la fin des annees 1980 et a edite a ce jour cinq recueils tres bien accueillis par la critique specialisee. Il s'est ensuite consacre au roman: Soudain trop tard a remporte le prix Brigada 21 du meilleur premier roman noir en 2010. Ses livres ont ete traduits et publies aux Etats-Unis, en Italie, en France, aux Pays-Bas et en Allemagne.



John Cullen is Professor of Management Accounting at Sheffield Management School.

Praise For The Barcelona Brothers…
"Poet Carlos Zanón has surprised and shaken us with a transgressive novel that makes no concessions. The Barcelona Brothers speaks to us about a Barcelona in crisis, neighborhoods saturated with immigration where past and future don't exist, where kids are strung out on drugs and alcohol. It's everything but politically correct. The words interculturalism, integration, and tolerance don't exist. Carlos Zanón is a ruthless reporter of the new era." —Rosa Mora, El País

"The Barcelona Brothers…is a virulent poem about absent fathers and anguished youths with a tense and elaborate dramatic structure." —Lilian Neuman, La Vanguardia

"For crime fans who think of Barcelona as one of the world's most beautiful and cosmopolitan cities, it will be an eye-opener." —Booklist
 
"This feverish, present-tense novel, Zanón's first to be published in English, strives for unflinching honesty in its stark portrait of the Barcelona slums that serve as the backdrop to an inexplicable crime...Zanón sharply captures the mental detritus of his characters' fleeting thoughts, while the tortured relationship of the native-born Alex and Epi to their North African friend dramatizes the tensions festering beneath Spain's nominally multicultural surface. The prevalence of fatherlessness among his characters sounds a warning bell for the country's future." —Publishers Weekly

"A dark, nihilistic novel evoking the spirit of Dostoevsky." —Kirkus

"Zanón's powerful prose builds and maintains teeth-clenching tension as the story moves to a conclusion that the reader will both anticipate and dread." —Tzer Island

"The dialogue is spot-on, the descriptions are confident, even lyrical at times, and it manages to skim the edges of pulp territory while never getting too lurid. The Barcelona Brothers takes a long, hard look at what people are capable of when they have no other options, and a portrait of a modern, multicultural Barcelona, with all the tensions simmering under the touristy surface." —Crime Fiction Lover

"The manner in which Zanon shows us the hearts and minds of the principals, set against the violence and mind-numbing hopelessness of the barrio, is absolutely wonderful." —Book Reporter