Papers in the Wind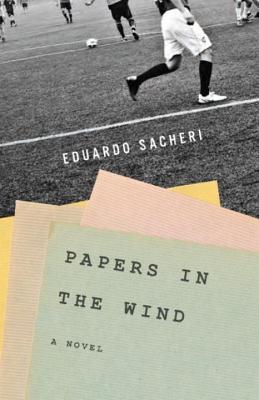 Papers in the Wind
Other Press (NY), Paperback, 9781590516423, 476pp.
Publication Date: May 20, 2014
* Individual store prices may vary.
Buy Now
or
Shop Local
Enter your zip code below to purchase from an indie close to you.
Description
From the best-selling author of "The Secret in Their Eyes," an adventure about friendship, soccer, and good humor
When Alejandro "Mono" dies of cancer, his brother and two closest friends, a tight-knit group since childhood, are left to figure out how to take care of his young daughter, Guadalupe. They want to give her all the love they felt for Mono and secure her future, but there isn't a single peso left in the bank. Mono invested all of his money in a promising soccer player whose talents haven't panned out, and the three hundred thousand dollars Mono spent on his transfer is soon to be lost for good.
How do you sell a forward who can't score a goal? How do you negotiate in a world whose rules you don't know? How do you maintain relationships when repeated failures create fissures in lifelong loyalties? Fernando, Mauricio, and Ruso pool the few resources in their arsenal to come up with strategies--from harebrained to inspired--in their desperate attempt to recoup Mono's investment for Guadalupe.
Following the lives of four distinct characters, who, despite their great differences, still manage to find solace and pride in one another, "Papers in the Wind" is a tribute to friendship and proof that love and humor can triumph over sadness.
About the Author
EDUARDO SACHERI was born in Buenos Aires in 1967. His first collection of short stories, Esper?ndolo a Tito y otros cuentos de f?tbol (Waiting for Tito and Other Football Stories), was published in Spain in 2000 under the title Los traidores y otros cuentos (The Traitors and Other Stories). Three of his other collections were published between 2001 and 2007, all of which have been bestsellers in Argentina. His novel La pregunta de sus ojos has been sold into eight territories, and the film adaptation, The Secret in Their Eyes, won the Academy Award for Best Foreign Language Film in 2010.


Praise For Papers in the Wind…
"A touching and amusing look at friendship through the eyes of four Argentine soccer fans…the clever ending... makes the tale worth the telling. Overall, the book is a pleasure to read." —Kirkus

"An entertaining and affecting novel of friendship, faith, and sport." –Booklist 

"When Papers in the Wind by Eduardo Sacheri, a novel about soccer translated from Spanish by Mara Faye Lethem, arrived on my desk, it pushed everything else out of the way." —Shelf Awareness

"Sacheri succeeds like few others in giving his stories a universal dimension—the stories of ordinary people where the commonplace becomes epic." —Juan José Campanella, Oscar-winning director of The Secret in Their Eyes
 
"With his stories of soccer and descriptions of its players and fans, Sacheri reconfirms his previous literary merits: the ability to create environments with great sensitivity and narration, giving his words just the right tone, and suggesting that something is left unsaid." —Revista Acción