The Cold Song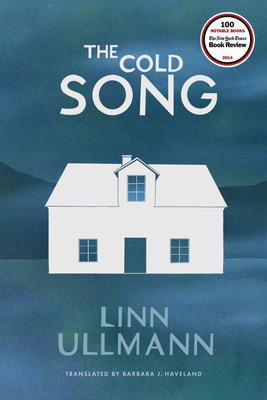 The Cold Song
Other Press (NY), Paperback, 9781590516676, 328pp.
Publication Date: April 8, 2014
* Individual store prices may vary.
Buy Now
or
Shop Local
Enter your zip code below to purchase from an indie close to you.
Description
One of the "New York Times Book Review'"s 100 Notable Books of 2014
Ullmann's characters are complex and paradoxical: neither fully guilty nor fully innocent
Siri Brodal, a chef and restaurant owner, is married to Jon Dreyer, a famous novelist plagued by writer's block. Siri and Jon have two daughters, and together they spend their summers on the coast of Norway, in a mansion belonging to Jenny Brodal, Siri's stylish and unforgiving mother.
Siri and Jon's marriage is loving but difficult, and troubled by painful secrets. They have a strained relationship with their elder daughter, Alma, who struggles to find her place in the family constellation. When Milla is hired as a nanny to allow Siri to work her long hours at the restaurant and Jon to supposedly meet the deadline on his book, life in the idyllic summer community takes a dire turn. One rainy July night, Milla disappears without a trace. After her remains are discovered and a suspect is identified, everyone who had any connection with her feels implicated in her tragedy and haunted by what they could have done to prevent it.
"The Cold Song" is a story about telling stories and about how life is continually invented and reinvented.
About the Author
Linn Ullmann is an award-winning author, journalist, and literary critic. She has published four novels in thirty-three languages, all of them critically acclaimed international bestsellers: Before You Sleep, Stella Descending, Grace, and A Blessed Child. She lives in Oslo with her husband and children.

Barbara J. Haveland was born in Scotland, and now lives in Denmark with her Norwegian husband and teenage son. She has translated works by several leading Danish and Norwegian authors, including Peter Hoeg, Linn Ullmann, and Leif Davidsen.
Praise For The Cold Song…
"The Cold Song is a fluid, shape-shifting novel, a family saga that turns into an erotically charged drama and then  takes a darker turn into the terrain of a murder mystery. Linn Ullmann is an unusually talented and sympathetic writer, able to inhabit a wide range of characters and bring them all vividly to life." —Tom Perrotta, author of Nine Inches: Stories and The Leftovers

"In The Cold Song, Linn Ullmann explores the events surrounding a young woman's murder in brief, haunting flashes that imbue the intimacies and betrayals of family life with the brooding magic of a Grimm's fairy tale. This delicate, mesmerizing work attests to Ullmann's vast storytelling powers." —Jennifer Egan, winner of the 2011 Pulitzer Prize for Fiction and the 2010 National Book Critics Circle Award

"The Cold Song is a wonderful book, like a family album made by a photographer who really cares for his subjects. I love the way Ullmann deals with time and perspective. Her complete freedom to jump from one character to the next and back and forth in time holds the book together as one big picture of a somehow dysfunctional and still completely normal family—a family I loved to spend time with. I admire her ability to slip into the characters of men, women, and children with ease and make them completely believable—the philandering Jon is a masterpiece. The book has the light but also the weight of a Bergman film. It doesn't offer easy solutions but still has a kind of healing power."  —Peter Stamm, finalist for the Man Booker International Prize 2013 and author of We're Flying and Seven Years 

"Contrary to popular belief, a death is not merely an end but the beginning of a story. The death in The Cold Song opens a Pandora's box of human emotions, conflicts and deceptions. Readers of this novel will be reminded of the joys and complexities of living. Memories, laughter, gestures, trivialities—everything casts a shadow, and nothing leaves us safe. Linn Ullmann has mastered the art of seeing into the dark mysteries that make us who we are." —Yiyun Li, award-winning author of The Vagrants and Kinder Than Solitude

"Linn Ullmann's The Cold Song is a haunting novel about all the ways we endeavor to love and be loved, and the many mistakes we can make while trying. It's suspenseful and beautifully written and so absorbing that I could not put it down. When I  finished reading it, I remained in a state of awe." —Vendela Vida, author of The Lovers and Let the Northern Lights Erase Your Name

"The Cold Song recounts the unfolding of a large tragedy that has already happened—the mysterious disappearance of Milla, an adolescent girl—while also showing the smaller tragedy of a faltering marriage. Combining the tension of a whodunit with the subtlety of a domestic drama, Ullmann's riveting novel is measured, impeccably observed, and utterly chilling." —Rebecca Mead, author of My Life in Middlemarch

"[The Cold Song is] a psychological tour de force—not a beat wrong. The ending crept up on me, so quiet and unexpected. It's a brilliant scene, with everybody locked in character—in the huit clos finality of character—and it hits you the minute you put the book down. I stayed up half last night finishing it, and now I'm sitting bleary-eyed at my desk, paying for the pleasure." —Jane Kramer, author of Europeans and The Politics of Memory

"In her latest heart-stopper, internationally bestselling author Ullmann (who lives in Oslo), combines a mysterious murder with a razor-sharp eye for family relationships." –Reader's Digest
 
"Ullmann's voice on the page is a lean, tough-minded thing, scrubbed and scoured of sentimentality straight through to the final, Carveresque pages, in which she pulls off an 11th- hour radiance, a tonal shift from minor to major key. The novel's charm lies in these idiosyncratic glints, these glimmers of queer wit, uncensored scorn or sudden, unstinting sympathy." –The New York Times Book Review

"The fifth novel by an award-winning Norwegian author and critic deserves to win her a much larger stateside readership.  The latest and best from Ullmann (A Blessed Child, 2008, etc.) resists categorization, except as a literary page-turner.  It's a murder mystery.  It's a multigenerational psychodrama of a dysfunctional family.  And it's a very dark comedy of manners.  Yet the authors command is such that it never reads like a pastiche or suffers from jarring shifts of tone." —Kirkus (Starred Review)

"Intriguing...Ullmann teeters between dark comedy of manners and genuine psychological thriller, but she consistently captures the telling moments in everyday encounters, and writes seductively complex characters." –Publishers Weekly

"In her fifth novel, Ullman demonstrates her expertise in inhabiting the minds of complex characters, including Milla's grieving parents; a neighbor who may have been the last to see Milla alive; Siri's aging mother; Siri's elder daughter, who has a violent temper; and, of course, the beleaguered couple, Siri and Jon. Readers who appreciate an unconventional narrative flow will find this a deeply moving story of troubled relationships and unsettled memories." —Booklist Online

"Elegant and incisive, The Cold Song exposes a complex family drama that revolves around the day a beautiful young woman goes missing. When she is found murdered, her family members must sort out their suspicions of one another and question their own degrees of responsibility for her death. This novel is a startling meditation on loss, how we deal with it, how it echoes through generations, and how our mistakes cause us to lose the ones we love." —Jenny Patiño Cervantes, City Lit Books, Chicago, IL
 
"The Cold Song is a jewel of a book. More literary than genre, it explores psyches rather than motives for murder." —The Gumshoe Review

"Ullmann's rural Norway is an unfussy place, eloquent for its starkness, much like the spare language she paints it with. Her stage is less about physical place than mood and one's place in the familial symmetry. While much happens in this novel, the events feel secondary. The prose is taut, yet the pace is languid as summer in that before-the-storm tension…The real achievement of this novel is Ullmann's gift to imbue the tension of a thriller via the unease of the mundane…Yes, a murder occurs, but The Cold Song is more a mystery in the way most families tend to be mysteries unto themselves." –Minneapolis Star Tribune

"A technically adventurous hybrid that delivers in terms of complexity of characters, the darkness of an original Grimm's fairy tale and the heightened atmosphere of a tense thriller." –The National
 
"Those who loved The Dinner will probably appreciate this novel even more, in which the characters are much more sympathetic.
The book travels past the mystery in a way that The Dinner never managed to." –Libromancy
 
"A sad and uneasy read, one which reminds us about the passing nature of everything - be it life or love…[The Cold Song] is beautifully written." –Upcoming4.Me

"Ullmann wants us to marinate with each character and watch as they interact, inevitably crossing paths and connecting, standing next to each other in the road but thinking very different things, thinking about themselves, justifying their flaws, judging, reminiscing, making up their own stories, and manufacturing fairy tales." –Riveter
 
"The Cold Song doesn't so much unfold as it revolves, around the sudden disappearance of Milla, the young and beautiful summer nanny hired to take care of Siri and Jon's two children. The real "meat" of the novel rests in its keen and unflinching exposure of the inner lives of its characters, revealed in brief spurts of narrative that shift back and forth in time. The result is riveting." –Bookpage 

"The story of a family, in a class of its own."  —Sølvi Wærhaug, VG
 
"A story that lives and breathes. The novel can be interpreted as an attempt to understand the patterns in our lives: what has shaped us and why we do what we do. Ullmann writes about human relationships with near psychological X-ray vision. She scrutinizes the most wretched and painful sides of our existence, holding them up to the light and pressing our tender spots with her gentle touch." —Ellen Sofie Lauritzen, Dagsavisen
 
"Linn Ullmann's precise and distinctive prose is the stuff that makes a novel come alive." —Andreas Wiese, Dagbladet
 
"World-class literary craft."   —Bjarne Tveiten, Fædrelandsvennen