When God Writes Your Life Story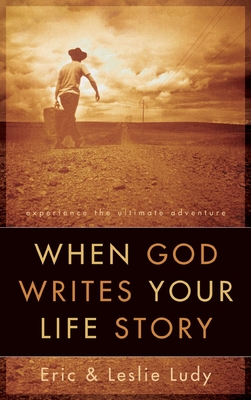 When God Writes Your Life Story
Multnomah Books, Paperback, 9781590523391, 238pp.
Publication Date: September 10, 2004
* Individual store prices may vary.
Buy at Local Store
Enter your zip code below to purchase from an indie close to you.
or
Not Currently Available for Direct Purchase
Description
Too many of us have settled for a predictable, mediocre existence when deep down we long to live a life that really counts. In their new book, bestselling authors Eric and Leslie Ludy reveal that the life God has called us to is beyond anything we have dreamed or imagined. This grand adventure can turn ordinary men and women into heroes for Truth agents in the service of the Most High God. This adventure transforms the impossible challenges of life into amazing opportunities to see the power of God at work. If you are willing to explore the boundless depths of a God-scripted life, this book can help you to embark on a new and magnificent voyage of discovery. Get ready to discover how breathtaking the adventure can be when God writes your life story. Discover the Adventure of a Lifetime
As little kids, we dream big dreams for our lives. We want to become CIA operatives, Jedi masters, samurai warriors, or super heroes who save the world from evil villains. We want to be someone who makes a difference someone who puts a dent into this life before we leave it. But as we grow up, it's all too easy to lose sight of our big dreams and settle for a predictable, mediocre existence.
If you are longing to live a life that counts, this book is for you. "When God Writes Your Life Story "isn t just a book about finding your purpose; it's about the life-altering effect that God the Author of adventure can have upon your purpose. If you want to experience the most thrilling, satisfying, and world-altering existence possible, then get ready to discover how breathtaking the adventure can be when God writes your life story.
Story Behind the Book
Eric and Leslie believe that God is in the business of writing amazing scripts for our lives. Not Hollywood scripts, but "heavenly scripts" that showcase His awe-inspiring faithfulness and love. This powerful book takes readers on a personal journey to discover their true purpose, proving that when we entrust the pen to the Author of Adventure, the result is a life story more fulfilling than anything we have ever dreamed.
About the Author
Eric and Leslie Ludy are best-selling authors, international speakers, and recording artists who challenge young adults to pursue a life completely devoted to Jesus Christ. Their bestselling books include "Teaching True Love to a Sex-at-13 Generation""."

Leslie Ludy is the bestselling author of Set-Apart Femininity, When God Writes Your Love Story, Authentic Beauty, and more than a dozen other books she has coauthored with her husband, Eric. She reaches thousands of young women each year and is passionate about helping them discover Christ's design for their lives. Leslie and Eric live with their three children in Colorado.