Visioneering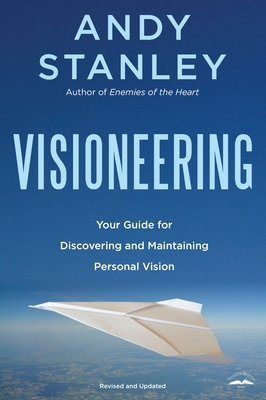 Visioneering
God's Blueprint for Developing and Maintaining Personal Vision
Multnomah Books, Paperback, 9781590524565, 272pp.
Publication Date: October 1, 2005
* Individual store prices may vary.
Buy Now
or
Shop Local
Enter your zip code below to purchase from an indie close to you.
Description
Lift Your Vision High
Vision is a preferred future. A destination. Vision always stands in contrast to the world as it is. Visioneering, according to bestselling author Andy Stanley, is a clear mental picture of what could be, fueled by the conviction that it should be. With warm, down-to-earth practicality, Andy Stanley explores the ordinary life of Nehemiah and his God-given vision for accomplishing the extraordinary. He shows how the life of this great ancient visionary, determined to rebuild the ruined walls of Jerusalem, reveals principles that can prepare us to find and follow God's multifaceted vision for our own lives. Now this bestseller is again available in an attractive, affordable paperback
Everybody ends up somewhere in life.
You can end up somewhere on purpose
"Visioneering" is the engineering of a vision. It's the process one follows to develop and maintain vision. Vision, writes Andy Stanley, is a clear mental picture of what could be, fueled by the conviction that it "should "be.
In the bestselling "Visioneering, " Stanley builds a compelling case for the necessity of a clear, God-ordained vision for each of the roles of your life. Whether you re a parent with a vision for your children or a CEO pursuing a corporate vision, "Visioneering" is the perfect tool to help you develop and maintain God's unique purpose for your life.
" Visioneering "is the best book on vision I ve seen. It will put you on track to discovering God's purpose for your life. In my course The Vision of the Leader, I quote from Andy's book more than any other. "Visioneering" should be on the bookshelf of every pastor, business leader, and parent in America . I heartily endorse it
" Dr. Bruce Wilkinson, Chairman, Dream for Africa"
Story Behind the Book
Andy Stanley, the pastor of more than 15,000, knows a lot of people, and is well aware of the overwhelming and mutual desire nearly every Christian holds to find and fulfill God's purpose for their lives. This book was written to stir these hearts and move people forward by providing tangible steps to getting from Point A to Point B. As Christians, states Stanley, we do not have a right to take our talents, abilities, experiences, opportunities, and education and run off in any direction we please. This book was written to provide a specific plan for going in the right direction. It truly is God's blueprint for developing and maintaining personal vision.
About the Author
Communicator, author, and pastor, ANDY STANLEY founded Atlanta-based North Point Ministries in 1995. Today, NPM is comprised of six churches in the Atlanta area and a network 30churches around the globe, collectively serving nearly 70,000 people weekly. As host of Your Move with Andy Stanley, with over 5 million messages consumed each month through television and podcast, and author of 20-plus books including The New Rules of Love, Sex, and Dating, Ask It, How to Be Rich, Deep & Wide, Visioneering, and Next Generation Leader, he is considered one of the most influential living pastors in America. Andy Stanley and his wife, Sandra, have three grown children and live near Atlanta.