Am I Good Enough?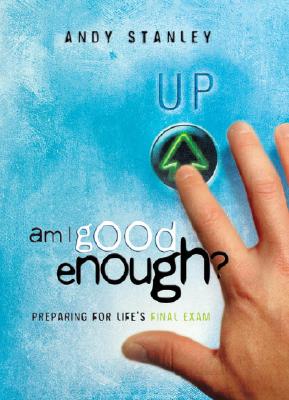 Am I Good Enough?
Preparing for Life's Final Exam
Multnomah Books, Hardcover, 9781590524671, 96pp.
Publication Date: March 4, 2005
* Individual store prices may vary.
Buy at Local Store
Enter your zip code below to purchase from an indie close to you.
or
Not Currently Available for Direct Purchase
Description
I Ask Myself Every Day... Am I Good Enough? Christians claim that Jesus is the only way to heaven. But how could a good God, who created the entire universe in all its diversity, be so limiting? Is Christianity unfair? Isn t it more fitting to believe that good people from any religious or nonreligious background go to heaven, rather than people from one particular belief system? Maybe not, says Andy Stanley. In this updated edition of the bestselling book, teen readers will find out why Jesus taught that goodness is not even a requirement to enter heaven and why Christianity is beyond fair. Andy Stanley leads the next generation of young people to a grateful awareness of God's enormous grace and mercy.
"If only good people go to heaven, "
"would I make the cut? "
"If Christianity is true, "
"why is God so narrow-minded? "
"And why aren t the answers obvious? "
They are. Find out why being good enough has nothing to do with heaven's requirements, and why God is, in fact, not fair at all.
Story Behind the Book
Andy Stanley has a heart for families and a special place for today's youth. Having served for many years as a youth and young adult pastor at a large church in Atlanta, his greatest goal was to lead a young person to Christ. With the success of his book How Good Is Good Enough and its acceptance as a widely used evangelistic tool, it was a natural step to refine this important question for the youth of today. Andy wanted to write a text that was aimed right at the heart of today's young culture and put a cover on the book that would interest and attract them to it. Today's youth are constantly looking for assurances in a crazy world. They get that assurance by learning that it is not how good you are, but that you are forgiven.
About the Author
Andy Stanley

Communicator, author, and pastor, ANDY STANLEY founded Atlanta-based North Point Ministries in 1995. Today, NPM is comprised of six churches in the Atlanta area and a network 30churches around the globe collectively serving nearly 70,000 people weekly.

As host of "Your Move with Andy Stanley," with over five million messages consumed each month through television and podcasts, and author of more than 20 books, including "The New Rules for Love, Sex & Dating," "Ask It, How to Be Rich, Deep & Wide, Visioneering," and "Next Generation Leader, " he is considered one of the most-influential pastors in America.

Andy and his wife, Sandra, have three grown children and live near Atlanta."