Sisterchicks Go Brit!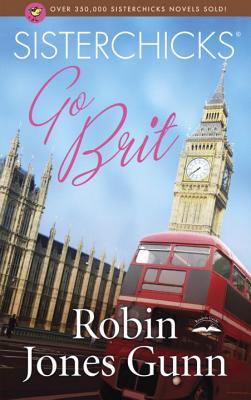 Sisterchicks Go Brit!
Multnomah Books, Paperback, 9781590527559, 285pp.
Publication Date: May 20, 2008
* Individual store prices may vary.
Buy at Local Store
Enter your zip code below to purchase from an indie close to you.
or
Buy Here
Description
Cheerio, Sisterchicks
SISTERCHICK(r) "n" a friend who shares the deepest wonders of your heart, loves you like a sister, and provides a reality check when you re being a brat.
Two midlife mamas hop over to jolly ole England and encounter so much more than the usual tourist stops. Liz does have a bit of a childhood crush on Big Ben, and she has hoped to meet him ever since her fifteenth birthday. Kellie dreams of starting an interior design business and figures Liz needs to be a part of that equation a calculation that hasn t added up for Liz yet.
Nothing on the excursion goes the way these two friends had envisioned. They start with a village pancake race and end up being held for questioning on The Underground. Kellie and Liz take a wild tour through the land of C. S. Lewis and J. R. R. Tolkien and then find themselves swept up, up, and away in a hot air balloon over the Cotswalds. London beckons with the Tower of London, Windsor Castle, shopping at Portabella Road in Knotting Hill, and of course, reservations at the Ritz for a posh high tea.
A few detours along the way and the possibility of being lost in a London fog of wonderment aren t enough to stop these two Sisterchicks Each step of their regal journey is lined with evidence of God's gracious compassion, and both come to realize that God knows their every wish. He is the One who planted every dream in their hearts.
And, oh, what a surprise awaits them when they return home
About the Author
Over the past 25 years Robin has written 82 books with almost 4.5 million copies sold worldwide. To her great delight, Robin s books are doing exactly what she always hoped to do they are traveling around the world and telling people about God s love. She is doing the same. Over the past ten years Robin has been invited to speak at events around the US and Canada as well as in South America, Africa, Europe and Australia.Robin and her husband have two grown children and have been married for 35 years. They live in Hawaii where she continues to write and speak.
Praise For Sisterchicks Go Brit!…
"Robin has done it again! You and your Sisterchicks will love taking this new adventure together!"
- Karen Kingsbury, New York Times best-selling author of Between Sundays and Ever After

"Get ready for a wild ride through the back streets of Oxford and London's busy underground. Sisterchicks Go Brit! is a joy to read and a delightful reminder that it's never too late in life to take a risk. You'll be cheering as these women dare to follow their hearts and be inspired to revive the dreams lying dormant in your own heart. Thanks, Robin, for treating us to another Sisterchicks adventure full of friendship, faith, and fun."
- Melanie Dobson, author of Going for Broke and The Black Cloister

"My only complaint about Robin's latest is that now I want to hop a plane to England! But combine a cup of Earl Grey tea and this charming story and you're halfway there. Another delightful tale about women helping women to live their lives to the fullest."
- Melody Carlson, author of These Boots Weren't Made for Walking and A Mile in My Flip-Flops

"Funny, touching, and true to life, Sisterchicks Do the Hula! will have you doing the hula (and loving it!) by the last page. Grab your grass skirt, girlfriend–this is one trip you don't want to miss! Robin Jones Gunn is the perfect tour guide for this joy-filled Hawaiian adventure. You'll feel the sand between your toes, taste sweet pineapple juice, see amazing rainbows–all without having to put on a bathing suit! Your travel partners, two turning-forty chicks, will feel like old friends the minute you hit the beach."
- Liz Curtis Higgs, best-selling author of Bookends and Mixed Signals

"Sisterchicks in Gondolas is a true delight. The characters shine, and evocative language will make any reader want to visit Venice. Biblical truths are portrayed simply, yet will touch hearts and lives with their realistic application."
- Romantic Times magazine

"If you have a keen sense of adventure, you will love exploring the world with Robin Jones Gunn's Sisterchicks series… The author makes sisterhood and friendship into an incredible treasure, and she uses Scripture in a way to challenge, uplift, and encourage the readers. This is an excellent read."
- Book Bargains and Previews for Sisterchicks in Gondolas

"Robin Jones Gunn makes traversing midlife seem almost welcoming because she has that rare gift of communicating hope amid trial and inner chaos. Robin has found an effective mode of gently lending some instruction to women who sometimes feel overwrought and undone by life's unexpected curves. Women and older teens will relish Sisterchicks Down Under. Who says growing older can't be fun if you have a friend to share the journey?"
- FaithfulReader.com