Family Squeeze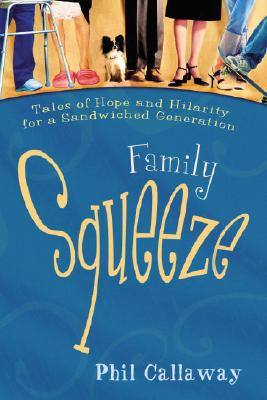 Family Squeeze
Tales of Hope and Hilarity for a Sandwiched Generation
Multnomah Books, Paperback, 9781590529164, 192pp.
Publication Date: March 18, 2008
* Individual store prices may vary.
Buy at Local Store
Enter your zip code below to purchase from an indie close to you.
or
Buy Here
Description
You ve been warned about middle-age spread. But no one told you about the squeeze.
You re in the Middle Ages sandwiched between the greatest generation and the gimme generations, busily juggling both with no relief in sight. Children are driving, and parents are not. Money is tight and so are your favorite jeans. And things that never ached before are beginning to give you trouble For every baby boomer who wonders if it's possible to navigate the Middle Ages with grace and style, Phil Callaway offers plenty of hope and a little hilarity, too. Because there's nothing like a smile to make wrinkles less noticeable.
The author of "Who Put My Life on Fast Forward? "and "Laughing Matters" offers this lighthearted look at the challenges of the middle years and promises that while we can t slow down the aging process, we "can "ease the worries it brings by focusing on what really matters most.
About the Author
Best known for his humorous yet perceptive look at life, award-winning author and speaker Phil Callaway has written more than 25 books, including Making Life Rich Without Any Money. Phil is also a syndicated columnist, the editor of Servant magazine, and a popular speaker for corporations, conferences, camps, and marriage retreats. He would say that his greatest achievement was persuading his wife, his high-school sweetheart, to marry him.
Praise For Family Squeeze…
"I loved reading this book. Family Squeeze is funny; VERY FUNNY and seriously honest. I'm grateful that Phil has transparently shared his life so we baby boomers could be reminded how to leave footsteps worth
following."
—BRIAN DOERKSEN, worship leader and author of "Come, Now Is the Time" and "Faithful One"

"I laughed and cried and identified wholly as I read Family Squeeze. Phil Callaway has the gift of using gentle humor to convey powerful truth; in this case that family is infinitely worth loving, however difficult the moment, and that God's grace and strength are the hope that carries us through each day. A must-read for every parent caught in midlife crisis between teenage hormones and aging parents."
—JEANETTEWINDLE, author of Crossfire and Firestorm

"I commend to you the sentiments expressed in this volume, not only because we need them and because Phil wrote them, but more importantly because he and Ramona live the grace so humorously articulated
here. I'm already planning to move in with them when I retire."
—TIM CALLAWAY, columnist, pastor, and brother to Phil

"Phil Callaway's books are not just a pleasure to savor, like eating a perfectly ripe pear. They are full of firm insights that give grace for the daily race, especially when the journey is hard. I loved Family Squeeze. If your life is full of children, parents, and everything in between, you'll love this book too."
—ELLEN VAUGHN, New York Times bestselling author of It's All About Him and Time Peace