A Sweetness to the Soul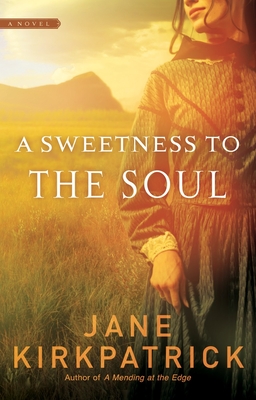 A Sweetness to the Soul
Multnomah Books, Paperback, 9781590529508, 456pp.
Publication Date: September 16, 2008
* Individual store prices may vary.
Buy Now
or
Shop Local
Enter your zip code below to purchase from an indie close to you.
Description
Based on historical characters and events, "A Sweetness to the Soul" recounts the captivating story of young, spirited Oregon pioneer Jane Herbert who at the age of twelve faces a tragedy that begins a life-long search for forgiveness and love. In the years that follow, young Jane finds herself involved in an unusual and touching romance with a dreamer sixteen years her senior, struggles to make peace with an emotionally distant mother, and fights to build a family of her own. Filled with heart-warming insight and glimpses of real-life pain, "A Sweetness to the Soul" paints a brilliant picture of love that conquers all obstacles and offers a powerful testimony to the miracle of God's healing power.
About the Author
Jane Kirkpatrick" "is the "New York Times "and CBA bestselling author of more than twenty-five books, including "A Sweetness to the Soul", which won the coveted Wrangler Award from the Western Heritage Center. Her works have been finalists for the Christy Award, Spur Award, Oregon Book Award, and Reader's Choice awards, and have won the WILLA Literary Award and Carol Award for Historical Fiction. Many of her titles have been Book of the Month and Literary Guild selections. You can also read her work in more than fifty publications, including "Decision", "Private Pilot", and "Daily Guideposts". Jane lives in Central Oregon with her husband, Jerry. Learn more at www.jkbooks.com.
Praise For A Sweetness to the Soul…
"Jane Kirkpatrick's particular gift is for capturing the authentic feel and flavor of frontier life; A Sweetness to the Soul is absolutely true to the people and the land as they once were. This is a novel that calls up a period early in the history of Oregon marked not only by hardship, sudden death, spiritual fortitude, and physical endurance, but also by community, one person reaching out to help another so that they might all survive."
- Molly Gloss, winner of the Whiting Writers Award and author of The Hearts of Horses

"This book portrays a love that conquers all obstacles and offers testimony to the miracle of God's healing power."
- Bookstore Journal

"In A Sweetness to the Soul, Kirkpatrick offers a testimony to God's ability to fulfill our dreams, in spite of our human propensity to question the why and how of situations. Through the eyes of Jane Sherar, readers come to recognize that blessings are hidden in the midst of everyday life and often only understood within the context of the passing of time."
- Cascades East Magazine

"With profound skill, Jane Kirkpatrick weaves a tale of place and time. While entertaining, she teaches me history; while making me laugh, she unfolds significant soul lessons. The only good thing about coming to the end of Kirkpatrick's superbly crafted book is knowing she is writing another."
- Mary Anne Radmacher, artist and author of Lean Forward Into Your Life and Live Boldly for A Sweetness to the Soul

"Her research gives the book depth; her empathy gives it a soul."
- The Sunday Oregonian