Waterloo Sunset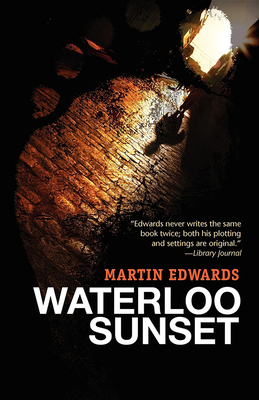 Waterloo Sunset
Poisoned Pen Press, Hardcover, 9781590584415, 318pp.
Publication Date: April 2008
* Individual store prices may vary.
Shop Local
Enter your zip code below to find indies closest to you.
Description
A notice announcing that Harry Devlin died suddenly on Midsummers Eve arrives at the office of his law firm one June day. Harry isnt happy to read it especially as Midsummers Eve is less than a week away. His partner Jim Crusoe treats the message as a joke, but Harry isnt so sure. From that moment on, his world starts to fall apart. Who is his unknown enemy? The list of people who might want rid of him lengthens, and soon someone close to him is savagely attacked and left for dead. Meanwhile, young women are being murdered in Harrys home city of Liverpool. When a friend who has asked to meet him becomes the latest victim, Harry is dragged into the investigation and becomes a suspect. He finds himself fighting for survival on two fronts. But even as he unravels the shocking secret behind the murders, the clock keeps ticking. Harry must discover and confront the enemy who wants him dead - if he is to live to see Midsummers Day. An atmospheric, fast-moving and intricate thriller, Waterloo Sunset features in Harry Devlin one of modern crime fictions most memorable amateur detectives in the deadliest case of his life.
About the Author
Martin Edwards is an award-winning crime writer best known for his series of novels set in Liverpool and the Lake District. He is series consultant for British Library Crime Classics as well as being a member of the Murder Squad collective of crime writers, a member of the Crime Writers Association committee, and archivist of the Detection Club.
Praise For Waterloo Sunset…
At the start of the impressive eighth entry in Edwards?'s Harry Devlin series (/All the Lonely People/, etc.), the Liverpool attorney receives a fake newspaper notice announcing his death on Midsummer?'s Eve. Subsequent threatening messages lead him to take the less-than-a-week deadline seriously. Given Devlin?'s penchant for sticking his nose where it doesn??t belong, many people bear him murderous grudges. Devlin focuses on two suspects??Tom Gunter, a violent thug and a former client, and Aled Borth, a loner angered that the lawyer?'s best efforts didn??t result in a charge of murder being brought against the nursing home where Borth?'s mother died. The addition of a serial killer who severs his victim?'s tongues might have proven too much for the plot to bear in a lesser writer?'s hands, but Edwards skillfully weaves the strands together. While some readers will guess the truth before Devlin does, all will enjoy this twisty whodunit. -- Publishers Weekly (12/24/2007)