The Eye of the Virgin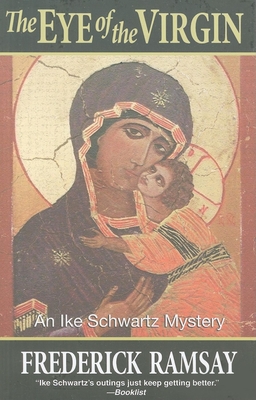 The Eye of the Virgin
An Ike Schwartz Mystery
Poisoned Pen Press, Hardcover, 9781590587607, 239pp.
Publication Date: July 1, 2010
* Individual store prices may vary.
Buy at Local Store
Enter your zip code below to purchase from an indie close to you.
or
Not Currently Available for Direct Purchase
Description
On the same evening that a body is found in Picketsville's urgent care clinic, a mysterious break-in occurs at the house of one of Callend University's faculty. Both seem to be connected to an icon, "The Virgin of Tenderness, " in the faculty member's possession. The fact that the body is that of the faculty member's ex-wife's lover who, more interestingly seems to have entered the country under an assumed name only complicates things for Sherriff Ike Schwartz. In the search for killers and thieves, what appears to be outdated spycraft, a microdot, is found on the icon. In an era of sophisticated cyber-encrypted information transfer, the presence of this bit of CIA nostalgia brings in Charlie Garland and the forces from Langley. Ike has no wish to engage with them or their problems. He has killers to apprehend and sets out to do his job in spite of the meddling by government agencies. That the bit of spycraft is something more than old time microphotography and it carried information that implicates the involvement of Israel's super secret Mossad only complicates an already messy set of problems. A dead CIA agent, a rogue handler, and a potential international incident are avoided outside the faculty member's house as the good, the bad, and the ugly are neatly sorted and carted away. During the course of all this, Ruth's mother arrives for an extended visit, Ike and Ruth are officially engaged, and the Sutherlins, Billy, Frank, and Essie, like Dilsey Gibson, endure.
About the Author
Frederick Ramsay has published fourteen books that range from historicals (The Jerusalem Mysteries), to Africa (The Botswana Mysteries), to police procedurals (The Ike Schwartz Mysteries). In addition, his stand-alone Impulse was named one of the Best 100 Books of the Year in 2006 by Publishers Weekly. He is an iconographer and an accomplished public speaker. He lives and writes in Arizona.
Praise For The Eye of the Virgin…
"The sixth in this series has Ramsay's trademark folksy touch, a well-rounded cast of characters, and brisk and believable dialogue, this time with an international scope. Ike Schwartz's outings just keep getting better."  -- Booklist

"Sure-footed plotting and easy banter make Ramsay's sixth Sheriff Ike mystery (Choker, 2009, etc.) a brisk, entertaining read."   -- Kirkus Reviews

"Mixing down-home police work, CIA maneuvering, and FBI finagling in this timely tale of terrorism, Ramsay comes up aces with his sixth outing (after Choker)."      -- Library Journal 
" With folksy charm and dollops of humor, Ramsay crafts a tale of international intrigue in which the past and present make poor bedfellows. Fans of Ruth and Ike's blossoming romance will find plenty to cheer about."    -- Publisher's Weekly